UBS expects 'iPhone 6s' launch to push Apple's total Sept. quarter sales to record 49M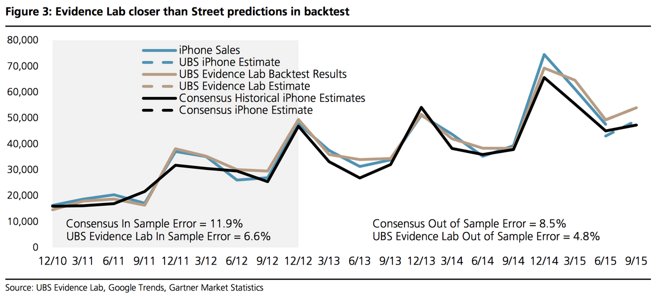 AppleInsider may earn an affiliate commission on purchases made through links on our site.
Investment firm UBS remains bullish on the future of the iPhone, with its latest research suggesting Apple is on track to ship a record 49 million iPhones in the current September quarter.
The data is based on UBS's Evidence Lab iPhone Monitor, which measures search volumes around the world, and was revealed in a new research note published on Thursday. A copy of the note by analyst Steven Milunovich was provided to AppleInsider.
Milunovich believes that iPhone growth will slow for the anticipated "iPhone 6s" upgrade, but he doesn't believe that the platform has yet peaked.
He noted that iPhone growth over the last four years has been 73 percent, 20 percent, 13 percent, and an estimated 35 percent this year. He expects the upward trajectory will continue in fiscal 2016, led by the "iPhone 6s."
It's widely anticipated that Apple will unveil its next-generation iPhone in September, putting it on sale just before the end of the quarter. The Evidence Lab iPhone Monitor suggests demand for the iPhone remains strong, even ahead of a new product launch, which caused Milunovich to increase his forecast from 46 million units to 49 million units.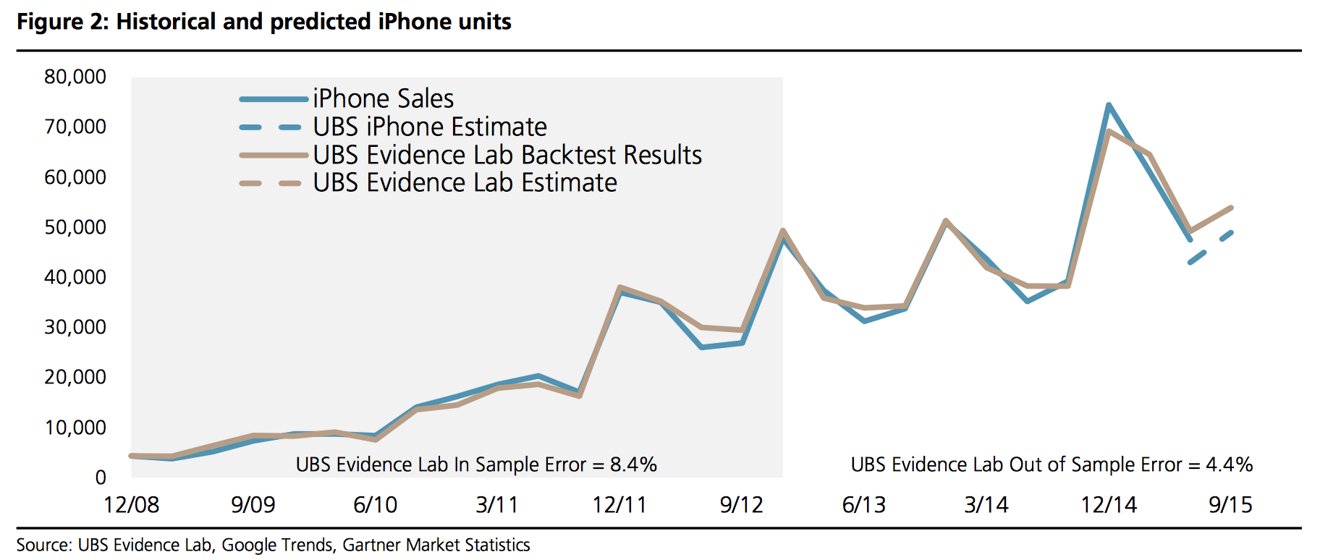 If his forecast proves accurate, that would be yet another record breaking quarter for Apple's hot selling handset. In the same period a year ago, during with the iPhone 6 and iPhone 6 Plus debuted, Apple shipped a then-record 39 million iPhones.
Looking forward to Apple's fiscal year 2016, Milunovich predicts that iPhone sales will grow another 6 percent to 245 million units. He noted that most — 73 percent — Â of the current install base has not yet upgraded to the larger displays of the iPhone 6 and iPhone 6 Plus.
Milunovich reiterated his "buy" recommendation for shares of AAPL on Thursday. UBS has also maintained its price target of $150 per share.
UBS joins FBR Capital Markets and RBC Capital Markets in reinforcing their support for Apple stock this week, advising investors to buy in while the company trades at a discounted price. Shares of AAPL have fallen this week as investors have expressed concern about possible slowing iPhone growth, as well as future business prospects in China.
While UBS, FBR and RBC have all continued to endorse Apple stock, Bank of America Merrill Lynch downgraded the company to neutral on Wednesday, lowering its price target from $142 to $130.