Apple making unlikely enterprise bedfellows to bolster sagging iPad sales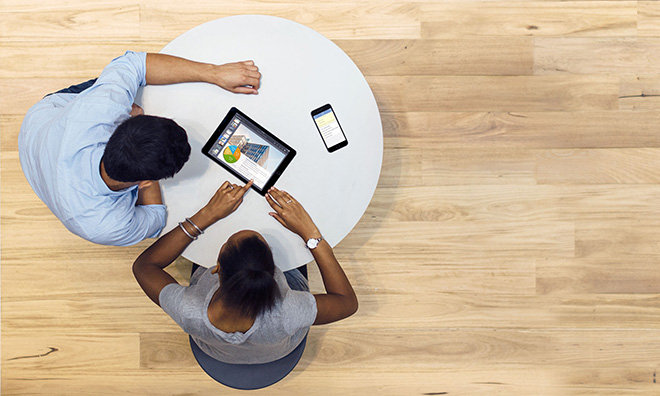 A report on Wednesday fleshed out Apple's plan to take a bigger piece of the business workplace technology pie by leveraging its mobile iPad platform, a strategy that entails opening up operations to smaller firms.
According to multiple sources with direct knowledge of Apple's iPad in business push, dubbed the mobility partner program (MPP), the company is working with more than 40 companies to extend iPad's reach in a lucrative business-app marketplace, reports The Wall Street Journal. These newfound small business partnerships have resulted in a cooperative dynamic that flies in the face of Apple's usual operating procedures.
As an example, Apple is inviting staff from smaller businesses like accounting firm Xero Ltd. to train internal business specialists. The company also gave its partners the opportunity to take part in a sales conference in March that is normally closed to non-Apple employees. At the event, Apple combed over third-party apps workshop-style, offering business app makers detailed suggestions about how best to tweak their software.
In addition, Apple is pushing partner developers to design interoperable apps in hopes of creating a more cohesive ecosystem based around iPad.
For Apple, partnering with smaller firms is opening doors to a fresh customer base. For example, one partner was able to put Apple in contact with an iPad business customer who had never before been contacted by the company, the report said. In another case, a small business owner who visited an Apple Store about buying a Mac to run her skin care brand was invited to a workshop where third-party companies pitched their iPad-based solutions to a small gathering of retailers.
Apple declined to comment on the matter, saying only that its partners "are developing iOS solutions across industries that will empower employees and usher in a new era of productivity."
Sources said Apple is planning to market app bundles targeting specific industries and business sectors like retail and accounting. Other areas of interest include telecommunications, as the report said Apple is thinking about throwing in with mobile telcos like AT&T and Verizon to push these app bundles, as well as iPad hardware, to businesses.
The initiative appears to be unrelated to Apple's mobile enterprise solutions partnership with IBM, which was announced last July. That undertaking, called "MobileFirst for iOS," has IBM taking care of iPad hardware leases, device management, security, analytics, mobile integration and on-site repairs. Apple lends a hand with app development and offers a special class of AppleCare.
After years of strong sales, Apple's iPad is slowly losing its luster as phablets and cost-effective thin-and-light laptops encroach on tablet territory. During its last fiscal quarter ending in June, Apple continued to see a decline in iPad demand with 10.9 million unit sales, down 18 percent from the same time last year. The company hopes to reinvigorate interest in the segment with new iPad-specific iOS 9 features such as multitasking, while rumors claim a 12.9-inch "iPad Pro" model with stylus is in the offing for business customers.