USPTO finds Apple iPhone design patent invalid in court fight against Samsung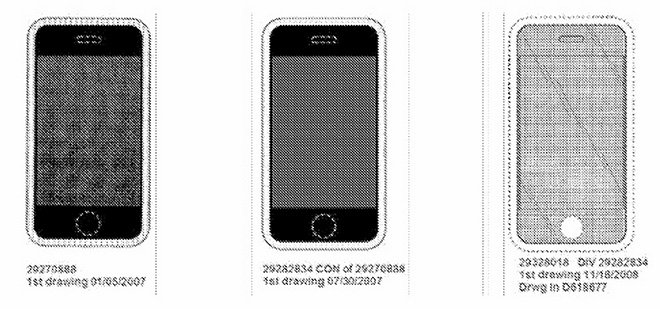 The U.S. Patent and Trademark Office earlier this month found an iPhone design patent successfully leveraged by Apple against Samsung in its first court action invalid on multiple counts, bringing Apple's $548 million damages award into question.
Spotted by FOSS Patents' Florian Mueller, the non-final decision regarding Apple's U.S. Patent No. D618,677, known as the D'677 patent, was handed down by the USPTO's Central Reexamination Division on Aug. 5.
The decision follows an anonymous ex parte examination request — likely filed by Samsung — calling the design patent's validity into question. Mueller believes Apple is going to have a hard time arguing validity considering the long period between ex parte requests and the resulting Office action. Further, the non-final decision determined the patent's single claim was rejected twice for obviousness, once for obviousness in connection with a published patent application and once over novelty.
The USPTO is also not allowing Apple to claim benefit of filing date related to two previous patent applications covering the same design, which are thus cited as prior art. As seen in the image above, taken from the USPTO's decision, D'677 shows different design attributes from Apple's own prior art and therefore does not meet requirements of patentability laid out in Title 35 of the U.S. Code. A pair of non-Apple patents, one from LG and another from Japan, are the basis of the USPTO's other two rejections for obviousness.
As applied to the first Apple v. Samsung patent trial, Samsung was found to have infringed on D'677 with its Fascinate, Galaxy S 4G, Galaxy S II for AT&T, Galaxy S II for T-Mobile, Epic 4G Touch, Skyrocket, Showcase, Infuse 4G, Mesmerize and Vibrant smartphone models. In two cases, specifically the Galaxy S2 Skyrocket and Galaxy S2 Epic 4G, the jury based infringement findings solely on D'677.
The Apple v. Samsung jury handed down its decision three years ago, but proceedings continue to drag on as both parties mount exhaustive appeals. Samsung was able to whittle down an initial $1.05 billion damages ruling to about $548 million through a partial retrial and a successful Federal Circuit appeal, but was most recently denied an en banc rehearing to further reduce damages by $399 million. The Korean company still has the option to take its argument to the U.S. Supreme Court.