Apple Music Festival headliners rounded out with Mumford & Sons, Carrie Underwood and Ellie Goulding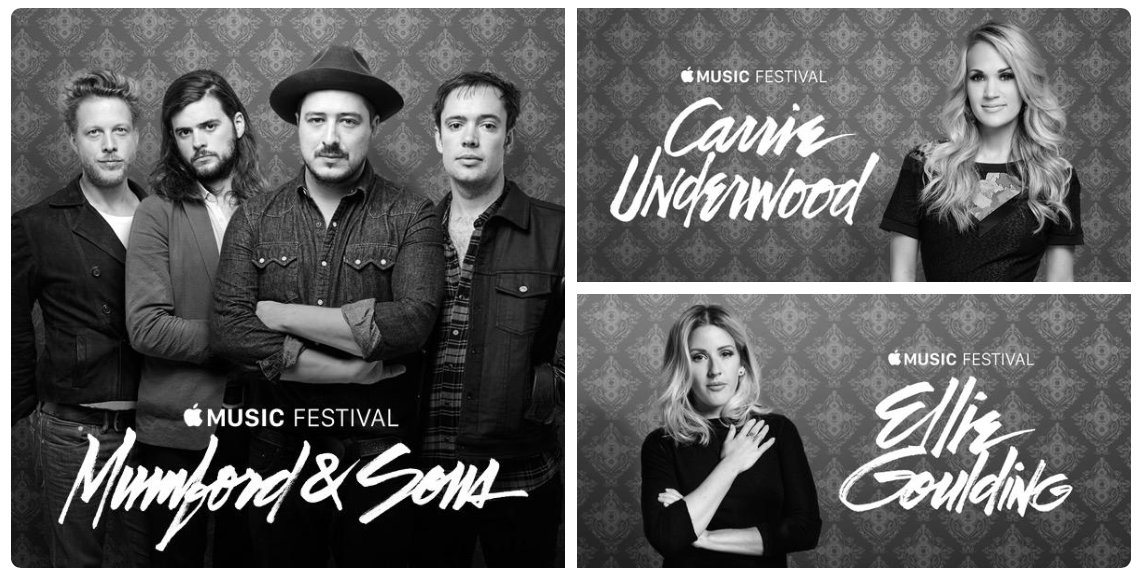 The forthcoming Apple Music Festival in London continues to take shape, with a trio of powerhouse pop acts added to the lineup on Tuesday: Mumford & Sons, Carrie Underwood, and Ellie Goulding, plus special guests.
Goulding will take the stage at London's Roundhouse on Sept. 19, with a special guest to be announced. Underwood will follow on Sept. 21, while Mumford & Sons will be joined by Jack Garratt on Sept. 27.
Apple also announced that both Lion Babe and NAO will join Disclosure's set on Sept. 25.
All 10 headline acts for the Apple Music Festival, formerly known as the iTunes Festival, have now been announced. Special guests still remain unknown for half of the acts, however.
Beats 1 will provide coverage of the festival when it kicks off later this month, while fans can follow a special Apple Music Festival page on Connect for lineup updates, announcements and behind-the-scenes photos and video.

Like the former iTunes Festival, Apple is handing out tickets through media partners in the UK, which this year includes the London Evening Standard. Those who can't make it in person can stream the festivities live via Apple Music or iTunes on iPhone, iPad, iPod touch, Mac and PC. Apple TV owners get direct access to high definition set replays, though there has been no word on live performances.
Sept. 19: Ellie Goulding, special guest to be announced
Sept. 20: Take That, special guest to be announced
Sept. 21: Carrie Underwood, special guest to be announced
Sept. 22: One Direction, with Little Mix
Sept. 23: The Weeknd, special guest to be announced
Sept. 24: The Chemical Brothers, special guest to be announced
Sept. 25: Disclosure, with NAO and Lion Babe
Sept. 26: Pharrell Williams, with Leon Bridges
Sept. 27: Mumford & Sons, with Jack Garratt
Sept. 28: Florence + The Machine, with James Bay