New Apple TV uses USB-C for service, ditches optical audio out port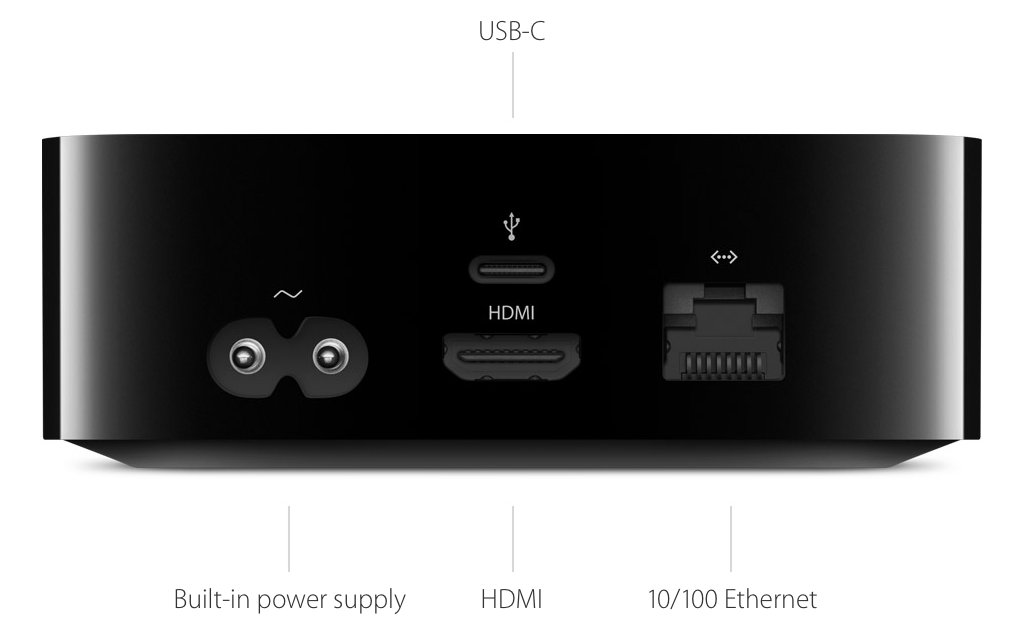 The new Apple TV looks largely the same as its predecessors, but its ports around back have been revised, removing optical audio output, and using USB-C for restoring the device through its service port.
The loss of optical audio out, in particular, could be upsetting to some home theater enthusiasts. While HDMI sends both audio and video over a single cable, copyright compliance requirements with HDMI can make it difficult or impossible for users to connect their headphones without the use of an intermediary receiver or HDTV with an optical out port.
Optical audio out ports on devices like the third-generation Apple TV, as well as modern game consoles such as the Xbox One and PlayStation 4, make it possible for users to connect headphones directly to the device, without the need for a receiver or home theater system.
Without a dedicated optical port on the fourth-generation Apple TV, those without a receiver looking to use headphones may be out of luck, as audio can only be sent out through the HDMI 1.4 port. Users with HDTVs that pass through audio via their own optical port, however, could still receive sound over headphones.
The Apple TV also holds the distinction of being Apple's second device with a USB-C port, though most users likely won't access it. Unlike with the 12-inch MacBook, which uses the USB-C port for both charging and syncing, the USB-C connection on the Apple TV will only be used for diagnostics purposes.
Other changes to the Apple TV are more significant: It features a much more capable 64-bit A8 processor, as well as storage capacities of 32 or 64 gigabytes, for $149 or $199, respectively. Wi-Fi connectivity has also been upgraded to 802.11ac, while the device still features a dedicated Ethernet port.