Apple issues new euro bond worth more than $2.25B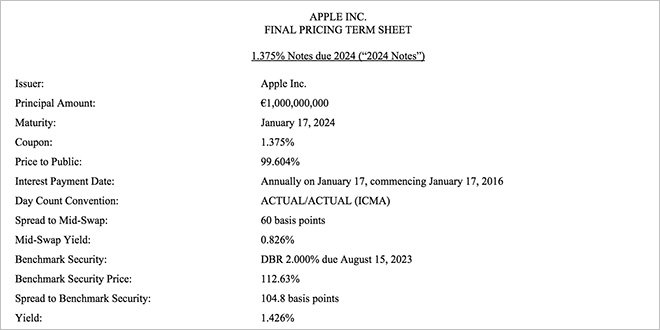 AppleInsider may earn an affiliate commission on purchases made through links on our site.
In a U.S. Securities and Exchange Commission filing on Thursday, Apple announced a new two-billion euro debt offering (about $2.26 billion) as it continues to take advantage of historically low interest rates.
Apple is offering two bonds set at 1 billion euros each that are slated to mature on Jan. 17, 2024 and Sept. 17, 2027. Yields on the euro-denominated bonds are expected to hit 1.426 percent for the 9-year notes and 2.040 percent for the 12-year notes, with annual interest payments due to start next year on Jan. 17 and Sept. 17, respectively.
Underwriting Apple's latest bond issuance are Goldman, Sachs & Co., Deutsche Bank, J.P. Morgan Securities and Merrill Lynch International, while Citigroup Global Markets Limited and Credit Suisse Securities (Europe) Limited are acting as co-managers.
The debt offering is dated for Sept. 10, 2015 and holds a settlement date of Sept. 17 with denominations set at 100,000 euros. Buys in excess of 100,000 euros will be completed at integral multiples of 1,000 euros.
Apple is turning to debt markets to raise funds to buy back stock and issue dividends as part of its capital returns program. The company has more than $190 billion in offshore assets, but is averse to repatriating the cash due to high U.S. tax rates.
Apple plans to return $200 billion to shareholders through dividends and stock buybacks by the end of March 2017.