August debuts Apple HomeKit-enabled Smart Lock, Kwikset unveils Kevo Plus Internet-connected bridge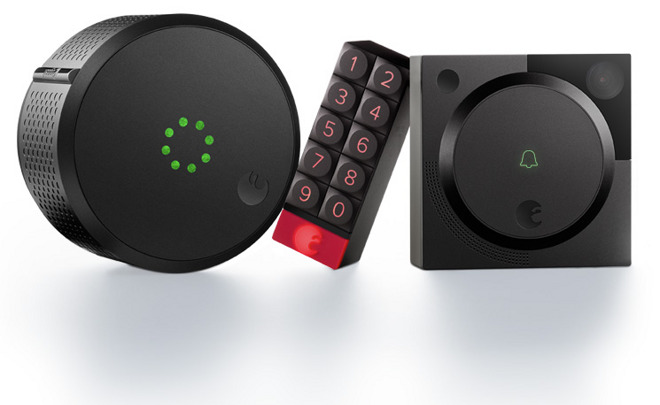 AppleInsider may earn an affiliate commission on purchases made through links on our site.
Two major players in the "smart lock" segment introduced new hardware this week with August unveiling a connected doorbell with camera, programmable keypad and a HomeKit-enabled version of its door lock, while Kwikset debuted an Internet gateway for its Kevo Bluetooth lock.
August is building on its eponymous smart door lock solution with an upgraded HomeKit enabled version capable of accepting voice commands from Siri and app-based remote control and dynamic status checks. Externally, the chassis features an updated aesthetic with new "micro-patterns" said to improve grip, and a chrome indicator to visually confirm that the device is locked.
Augmenting August Smart Lock is the Doorbell Cam. Powered by existing home wiring, the device acts as a regular doorbell with the added utility of an HD video feed for identifying visitors from a smartphone. A built-in motion sensing system detects when someone is at the door even if they don't press the doorbell, alerting homeowners to suspicious activity. The device also doubles as a wireless bridge for last-generation August Smart Locks, negating the need for August's standalone Connect unit.
Finally, August Smart Keypad is an accessory that interacts with Smart Lock to grant on-site access without need for an iPhone. Owners can use August's app to configure new entry codes for guests on the fly and monitor lock/unlock events.
On the software side, August announced Access, a program that grants one-time or regular Smart Lock access to verified partner companies like Sears and Postmates, even while away from home. By assigning unique entry codes to delivery, on-demand home services and other personnel, August is able to track access for added security. The feature is available now as an opt-in service.
August's latest products are due out in six to eight weeks, but preorders are currently being accepted through the company's website. August Smart Lock with HomeKit support sells for $229, the Doorbell Cam comes in at $199 and the Smart Keypad goes for $79. August is also marketing a bundle that includes all three devices for $489.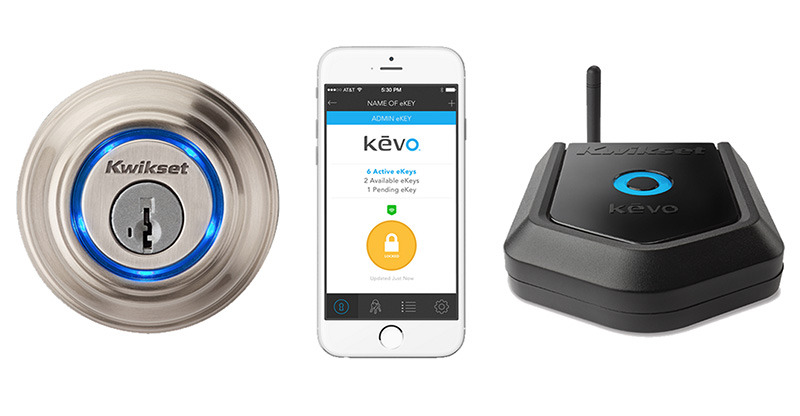 Kwikset also announced an upgrade to its connected lock lineup this week with Kevo Plus, an Internet gateway that lets iPhone users lock and unlock their door remotely with the companion Kevo app. The device connects to the Internet via ethernet and is capable of communicating with multiple installed Kevo locks using secure Bluetooth technology. In addition to remote control, users can monitor door access and receive alerts when Kevo is locked or unlocked.
By bringing Internet connectivity to its Kevo line, Kwikset addresses what AppleInsider considered a major sticking point when it first reviewed the platform two years ago.
Existing Kevo owners can upgrade to Kevo Plus for $69.99 through Kwikset's website, though the company recently announced gateway units are on backorder due to overwhelming demand.