Teardown of 21.5" iMac with 4K Retina display finds new LG LCD, no PCIe SSD slot, soldered-on CPU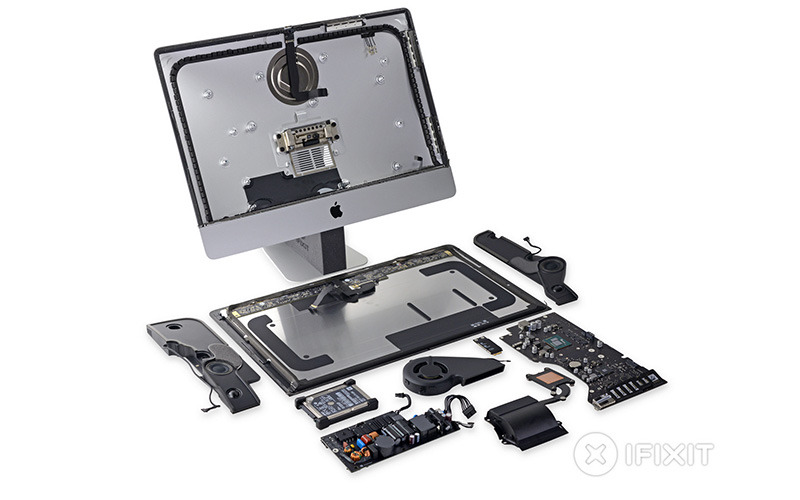 After repair experts at iFixit got their hands on Apple's new 21.5-inch 4K iMac on Friday they immediately tore it down to find a new high-resolution LG LCD panel and internal design tweaks that make aftermarket upgrades even more difficult.
According to iFixit, Apple is using a new ultra high-resolution panel from LG capable of reproducing a DCI P3 colorspace, meaning the 4K iMac screen technically covers a much wider color gamut than competitors.
As can be expected from a 21.5-inch screen packing in more than nine million pixels, pictures are reproduced with smooth edges, with individual pixels almost indistinguishable to the naked eye. Compared to last year's model, the 4K iMac crams in 4.5 times the number of pixels and the results are obvious. Powering the pixel-dense display is an array of Texas Instruments chips and a Parade Technologies LCD timing controller identical to the unit controlling the 27-inch iMac's 5K Retina display.
Moving on to the hard drive, iFixit found Apple removed the PCIe SSD slot meant to serve a factory ordered Fusion Drive found in 2014 iMac versions, a reversion to 2013's design that came with empty solder pads. This means users looking to upgrade from Apple's stock configuration, or buy cheaper modules to install on their own, are out of luck.
Apple also chose to solder Intel's Broadwell CPUs onto the logic board, barring users from replacing the processor on their own. Memory, too, is non-user-upgradeable as DIMMs come soldered on.
A quick tally of component makers finds Samsung supplying stock RAM, Broadcom responsible for Ethernet and Texas Instruments chipping in with an SMC Controller and DisplayPort switch. Other manufacturers include Cirrus Logic, Vimicro, Intersil, Winbond, Delta and more.
Overall repairability was rated at a dismal 1 out of 10 due to soldered-on RAM, soldered-on CPU, fused glass display and missing Fusion Drive connector.