Study: Apple Pay has more Gen X users than Millennials, but adoption slowing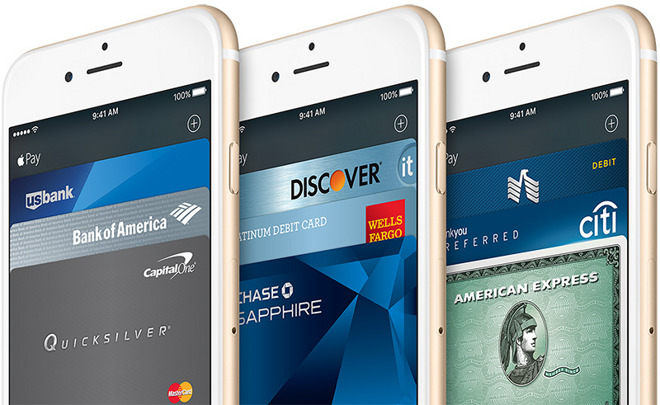 AppleInsider may earn an affiliate commission on purchases made through links on our site.
A study from Phoenix Marketing International says Apple Pay is still picking up users one year after launch, and recently saw a bump in usage rates from Gen X card holders, but overall growth is quickly reaching a plateau.
Speaking at the Money 20/20 convention in Las Vegas this week, Greg Weed, Phoenix Marketing's director of Card Performance Research, said Apple Pay is now being used by 14 percent of households with eligible credit cards. That statistic is impressive for a year-old fledgling payments service, but Weed's analysis shows a steep decline in adoption going into year two.
According to statistics shared with AppleInsider, Apple Pay reached 11 percent of credit card households four months after its release, meaning adoption grew three points since February. Phoenix Marketing sampled the numbers from a pool of 15,000 consumers polled over the past year.
While Apple Pay enjoyed little growth over the past few months, the service did see an uptick in usage rates from Gen Xers, a demographic defined as consumers aged 33 to 48. Initially, only 15 percent of Gen Xers signed up for Apple Pay actively used the service, Weed found, but that number that has since increased to 23 percent as of September.
Overall, Gen Xers accounted for 48 percent of all Apple Pay users heading into quarter four, with Millennials aged 18 to 32 making up a bulk of the remainder at 42 percent. Millennials also exhibited the highest usage rates with some 26 percent of users turning to Apple's service for their payment needs.
Weed says credit cards dominate Apple Pay and account for 86 percent of all cards linked to the service. Debit cards come in second with a 49 percent share, while prepaid cards account for another 22 percent.
In September, 79 percent of Apple Pay users said they completely replaced contactless plastic credit and debit cards with iPhone and Apple Watch, up from 51 percent in July and 53 percent in February.
Apple continues to ink deals with card issuing institutions in a bid to widen its accessible customer base, most recently adding 75 U.S. banks to its roster of partners. The service is currently limited to U.S. and UK customers, though availability is expected to debut in Canada and other locales soon.