Angela Ahrendts offers deep dive into Apple retail, future aspirations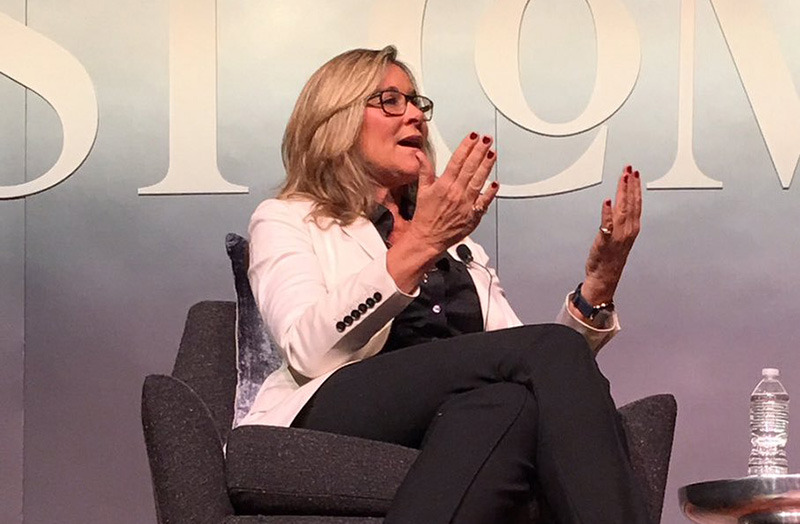 Apple retail chief Angela Ahrendts, speaking at the Fast Company Innovation Festival on Monday, pulled back the curtain on Apple Store, revealing a few interesting tidbits about the company's current operating philosophy and future goals.
As reported through live tweets from the event provided by Fast Company's Harry McCracken, Ahrendts covered a number of topics during her chat with the publication's editor-at-large Rick Tetzeli. Tetzeli has for years covered Apple and last year co-authored the book "Becoming Steve Jobs" with fellow journalist Brent Schlender.
During today's interview, Ahrendts said she visited Apple Stores in 40 markets around the world during her first six months at the company, dedicating time to speak with employees to get a better feel for her new position. Ahrendts officially joined Apple in mid-2014 to replace former SVP of Retail John Browett, who was fired from the company a year and a half earlier.
Unlike Browett, Ahrendts has proved a more accessible high-level manager for Apple Store employees and often makes impromptu appearances at international stores to celebrate product launches. As for how she runs Apple's brick-and-mortar business, which generates the highest sales per square foot of any U.S. retailer, Ahrendts said staff members can access her directly via email.
"It's a pretty flat organization," she said.
Ahrendts has the difficult task of expanding Apple Store marketing as the tech giant ventures into new categories like Apple Watch and even more complex intangible services like Apple Music and Apple Pay, Fast Company reports. Commenting on the future of retail, she considers Apple retail as a giant product in itself, comparing its evolution to that of hardware like iPhone and Mac.
As part of this ongoing transformation Apple Stores are showing off redesigned accessory displays, which Ahrendts calls "The Avenue." The idea is to showcase products in a way that recalls peeking into shop windows while walking down the street of a small town.
Ahrendts is enlisting the help of other top-ranking Apple execs for future Apple Store projects. For example, Jimmy Iovine and Eddy Cue are lending a hand in the creation of a new in-store Apple Music experience, while SVP of Software Engineering Craig Federighi is helping to build a workshop curriculum for teaching code. There is no word on when these new services will debut, but that Apple is working on such designs illustrates a willingness to further enrich the Apple Store experience.
Moving forward also requires a strong online presence and to that end Ahrendts said she was responsible for merging Apple's informational and retail websites, a major shift in how the company handles e-sales.
Just as pressing is brick-and-mortar expansion, especially into regions of growth. Ahrendts said one of the first tasks she assigned her team was to generate a list of cities forecast to be most populated by 2025. With 20 locations falling within China, Apple made plans to construct 25 new stores in the region by 2016.
"If we're going to do ten-year leases," she said," that's what we want to invest in."
Interestingly, Ahrendts is also looking for ways to serve Chinese customers traveling outside of China. Apple Stores are popular destinations for Chinese tourists and the company is relocating some of its best Chinese employees accordingly. For example, there are now 21 Mandarin-speaking employees at the Upper East Side Apple Store alone.
Finally, Ahrendts said the iconic wooden tables that have become an Apple Store staple are likely to remain for the foreseeable future, as Apple SDO Jony Ive designed them.