Apple's iOS devices benefit most from 2015 Black Friday sales, study says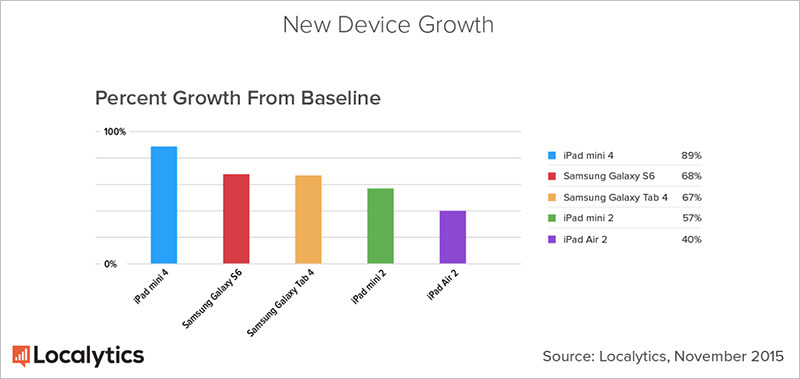 In spite of Apple's discontinuation of Black Friday promotions, both the iPad and, to a lesser extent, the iPhone exhibited some of the highest increases in new device activations over the holiday shopping weekend, according to a study published on Wednesday.
In its report, Localytics dubbed iPad mini 4 Black Friday's big winner, noting the tablet recorded an 89 percent jump in new device impressions across the firm's network. By comparison, runner-up Samsung saw a 68 percent increase in new device growth for the Galaxy S6.
For its Black Friday measurements, Localytics compared new device impressions against a baseline model built on averaged data collected over the three weekends prior. The study defines new devices as those seen for the first time on Localytics' platform, for example when a user downloads an app incorporating the firm's SDK.
Samsung's Galaxy Tab 4 reaped the third-highest increase, notching 67 percent growth above baseline. Apple's iPad mini 2, the most affordable Apple tablet in active production, saw a 57 percent jump, while iPad Air 2 saw a 40 percent rise, the report said.
The results are somewhat surprising considering Apple no longer directly participates in Black Friday or Cyber Monday sales through its own stores. Major big box chains like Best Buy, Target and Staples were running promotions for each of the top-five devices, though a large portion of Apple's sales traditionally originate from the company's online and brick-and-mortar retail channels.
Interestingly, Black Friday 2015 outperformed 2014 in terms of new iPhone and iPad activations. Last year, new Apple device impressions spiked the weekend prior to Thanksgiving, not during or after the traditional Black Friday/Cyber Monday shopping period.
Drilling down further into gathered Apple-specific data, the company's latest iOS devices — iPhone 6s, iPhone 6s Plus and iPad Pro — fared moderately well during last weekend's festivities. The iPhone 6s managed a 36 percent increase over baseline, followed by the 6s Plus at 29 percent. Computational concessions were made for iPad Pro as the massive tablet launched on Nov. 11. Still, after setting its baseline average one weekend prior, Apple's giant iPad managed to net a 26 percent bump in activations.
Finally, breaking out collective Apple device activations by day, Saturday saw the largest share of new impressions at 22 percent, while Cyber Monday was slowest with 18 percent.
Today's findings imply Apple's authorized reseller retail channel, which is allowed to discount prices, is not only alive and well, but flourishing in the wake of Apple's moratorium on Black Friday deals. Alternatively, customers might be so enamored with Apple's products and pricing as to purchase them directly from Apple Stores sans cost incentive. Either way, the data is promising, especially if it holds true beyond the Localytics network.