IDC expects Apple's iPhone to handily outpace a slowing global smartphone market in 2015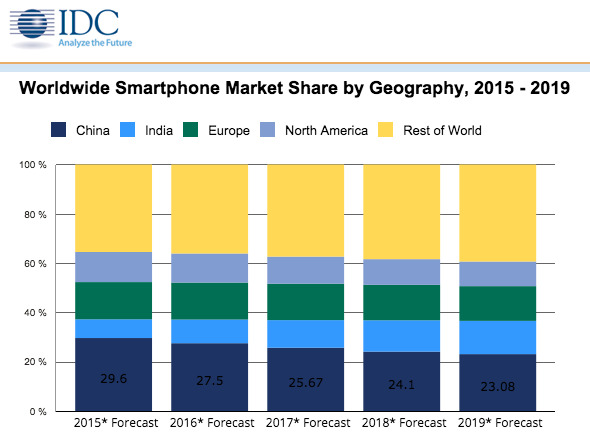 Citing continued consumer demand for the latest models, IDC on Thursday said it expects Apple's iPhone shipments will post 17.3 percent growth across 2015 — nearly doubling the performance of the overall global smartphone market.
The market research firm anticipates that Apple's continued growth in 2015 will give it a 15.8 percent share of worldwide smartphone shipments, growing to 226 million units. Apple's projected growth would put it well ahead of the total market, which is expected to grow 9.8 percent this year, sinking to the single digits in growth for the first time ever.
And while Android will remain the dominant smartphone platform, IDC believes that shipments of Android devices will only grow 9.5 percent this year, even lower than the market average.
Worldwide market share for iOS continuing to remain around 14 to 15 percent for the next year, with spikes expected around product releases.
Microsoft's Windows Phone platform, meanwhile, continues to struggle. IDC's estimates call for its shipments to drop 10.2 percent in 2015, accounting for only 2.2 percent of shipments with 31.3 million units.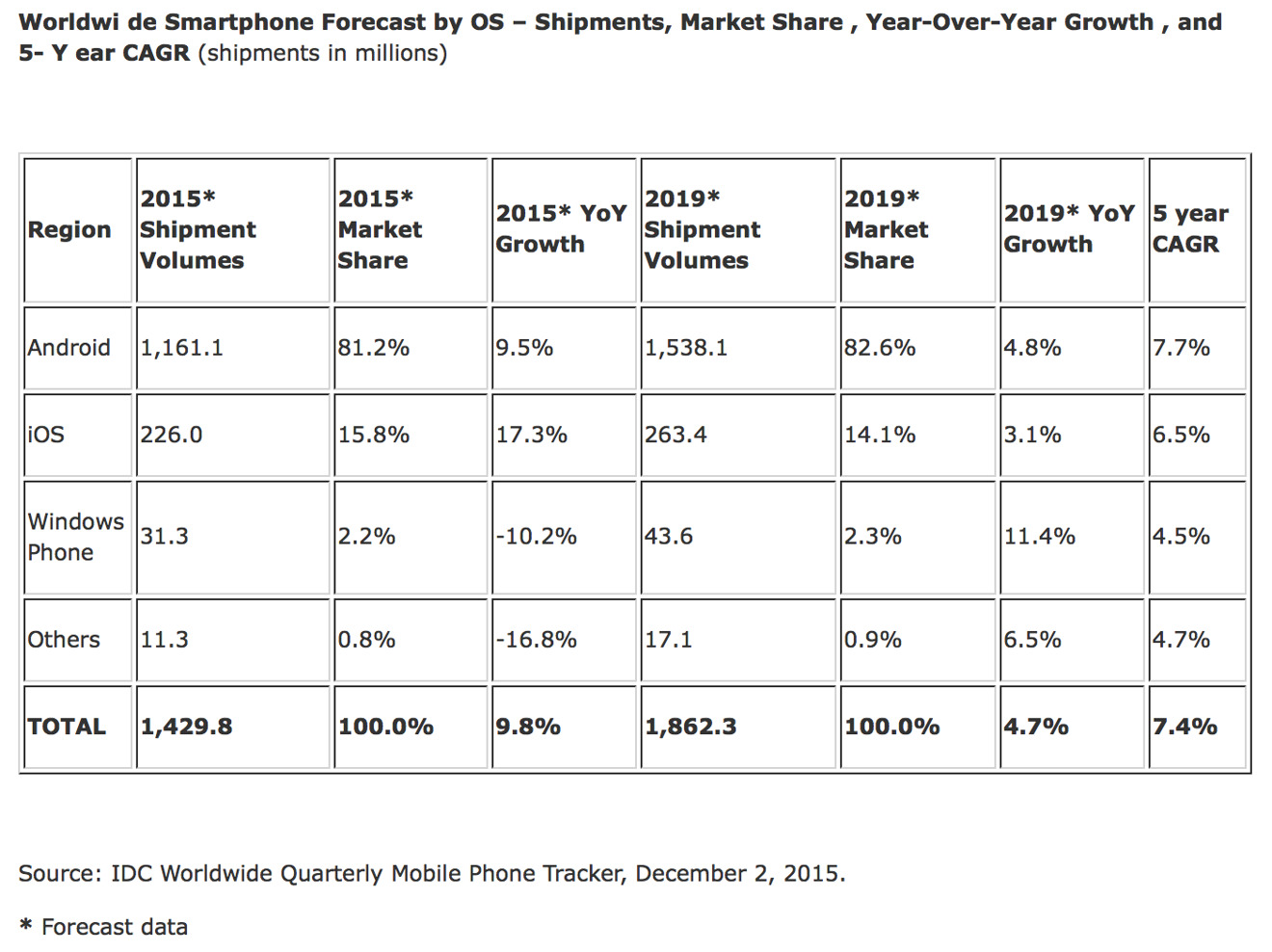 Despite Apple making incremental gains in the U.S., IDC expects Android to continue to maintain a majority percentage of worldwide market share, growing from 81 to 82 percent over the forecast period.
With growth of just 9.8 percent in 2015, total smartphone sales are expected to hit 1.43 billion overall units, reflecting a slowing market. IDC updated its previous forecast to reflect the slowdown in growth, particularly in China, where growth in shipments is forecasted to be in the low single digits.
Growth has also stalled in Latin America, Western Europe and the rest of the Asia-Pacific region, excluding Japan. However, Africa and the Middle East are both slated to see 50 percent growth rates in year over year shipments, surpassing markets like India and Indonesia, which were previously marked as "hot growth."
IDC anticipates that growth in mature markets will come mostly from the sale of replacement devices and that an increase in financing and trade-in options from programs like Apple's iPhone Upgrade Program should help speed up replacement cycles and get top-of-the-line devices into the hands of consumers sooner.
Signs of a maturing market have made themselves more readily apparent in recent years. Growth in China, specifically, has also been hampered by a country-wide economic slowdown, the concerns of which even prompted a rare mid-quarter update from Tim Cook in August, who maintained that Apple was experiencing "strong growth" in China.