Apple Music, Spotify, others to stream Beatles catalog on Dec. 24 [u]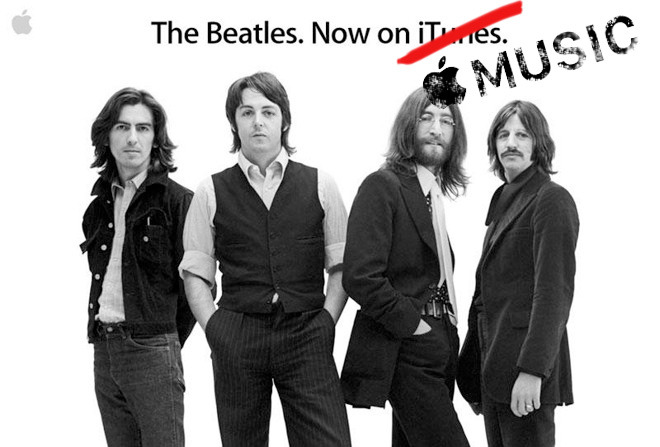 A report on Tuesday confirms rumors that the Beatles will make their streaming music debut on Christmas Eve, with availability on major platforms including Apple Music, Spotify, Google Play, Tidal and Amazon's Prime Music.
Citing industry sources, Re/code reports The Beatles' catalog is to be made widely available on Dec. 24 save for one major streaming service: Pandora. That company's licensing strategy does not include direct deals with content owners, meaning on-demand arrangements like the upcoming Beatles debut are currently impossible, the report said.
Reports last week cited industry insiders as saying most or all of the Beatles catalog would be coming to streaming music services like Apple Music on Christmas Eve.
As for pricing, Re/code's sources say the tunes will be available to free streaming tiers of services like Spotify, though it's not clear whether that same distinction applies to Apple's Beats 1 Radio station.
After years of fighting the digital music revolution, as well as Apple over a long-running trademark dispute, the band's albums finally made it onto iTunes in an exclusive arrangement in 2010. More recently, Apple scored another Beatles exclusive with the "1+" video collection earlier this month. The set contains 50 restored and remastered presentations from the band, including videos of all of the group's No. 1 UK and U.S. singles, alternate takes and rare clips.
Update: The Beatles have confirmed their music will be available for streaming on Thursday.