Samsung seeks to evade $120 million verdict due in Apple's second iPhone infringement trial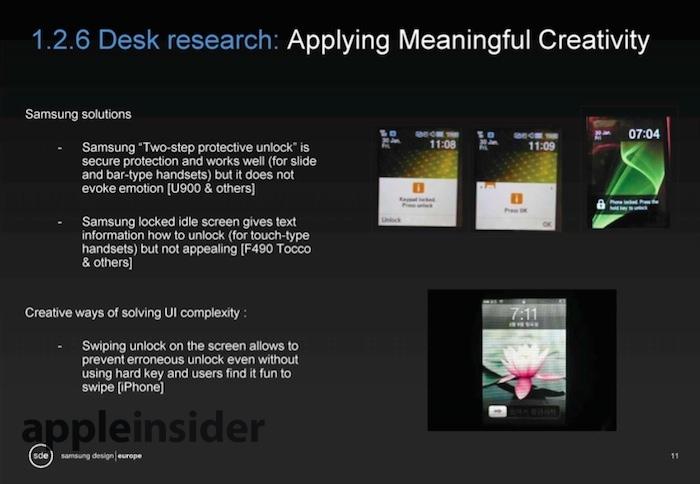 In its second patent infringement lawsuit against Samsung, Apple sought $2.2 billion in damages but was awarded just $119.6 million. Samsung is now asking a judge to bypass the jury's 2014 verdict and give it a free pass for "slavishly copying" Apple's iPhone technology in a case that began over four years ago.
Source: Samsung copycat design documentation
Clown court contravention
Apple had originally identified eight primary patents it said Samsung had infringed across at least 17 products, but U.S. courts determined that the country's judicial system didn't have the resources to consider the volumes of evidence involved in such a massive patent infringement case, and subsequently narrowed Apple's trial down to a token hearing.
While the jury eventually found Samsung had willfully infringed Apple's patents, it returned nonsensical damage royalties that awarded Apple $52 million related to Samsung's Galaxy S3 infringement, but zero for the company's earlier Galaxy SII, a decision that was so inept that presiding Judge Lucy Koh demanded that the jury either determine the product to be non-infringing or supply a reasonable royalty.
Apple wasn't even allowed to add Samsung's Galaxy S4 to the lawsuit, as Judge Koh decided that that there wasn't time to consider it. By the time of the trial, Samsung's infringement had expanded to a new Galaxy S5, but Judge Koh unilaterally decreed that Samsung shouldn't face any infringement-based sales bans on any devices because she "wasn't convinced" that the damage to Apple warranted more than monetary damages, even as the jury returned damages figures that were a slight fraction of Samsung's infringement-heyday profits on then-obsolete models and had been forbidden from even considering the products Samsung continued to sell.
Android licensees too incompetent to exploit free pass on infringement
Apple had earlier won an injunction with the the U.S. International Trade Commission to block infringing Android phones sold by HTC, a win that required that company to agree to a 2012 licensing deal with Apple. However, following that agreement, HTC stumbled toward irrelevance as Samsung continued to release far more iPhone-like, and therefore more popular, new Galaxy models.
Judge Koh further shielded Samsung from exposure to any real consequences related to stealing Apple's technology, emboldening the company to continue producing increasingly shameless counterfeit versions of successive iPhones, culminating in the Galaxy S6 last year.
The only thing that stopped Samsung from illicitly profiting from Apple's patented technology was not U.S courts enforcing patent law, but the company's own incompetence in building new Galaxy phones that could compete with iPhone 6.
U.S. Judge Richard Posner similarly protected Motorola Mobility from facing any consequences for its own infringement of Apple's patents in 2012, but that company similarly failed in its efforts to sell Droid-branded iPhone copies, even after Google acquired the company and attempted to purge its toxic product pipeline and begin producing the kind of Android products Google hoped market might buy.
Google lost hundreds of millions of dollars due to Motorola-related incompetence, but never faced any damages or product injunctions related to Motorola's patent infringement. It subsequently sold its toxic Motorola assets to Lenovo.
Despite a free pass from U.S. courts to infringe Apple's patents, and a parallel lack of patent enforcement in China that has resulted in a series of companies (including Lenovo, Meizu and Xiaomi) producing remarkably unoriginal iPhone clones, Android licensees have completely failed to copy Apple's brand allure or its core values, which involve protecting worker's rights and making efforts to avoid environmental contamination.
As a result, while the patent system has failed it globally, Apple continues to earn 94 percent of the world's smartphone profits while outpacing its cloners largely through increased secrecy rather than public patents protected by laws enforced through a judicial system.
Apple launched its 64-bit iPhone 5s with Touch ID on the heels of its nominal win in its second Samsung trial, then essentially abandoned patent lawsuits as it prepared to launched iPhone 6 and Apple Watch, two products that eviscerated Samsung's leading flagship offerings delivering the bulk of its profits. Over the past year, Apple's iPhone 6 inflicted billions of lost profits upon Samsung and positioned the company as a failed innovator incapable of selling profitable, finished packages of its own components.
Over the past year, Apple's iPhone 6 inflicted billions of lost profits upon Samsung and positioned the company as a failed innovator incapable of selling profitable, finished packages of its own components.
The Korean electronics firm is now issuing warnings that 2016 will be another tough year for the company, leaving Apple largely uncontested in the global smartphone, smartwatch, tablet, desktop and notebook PC markets.
Apple has, however, finally collected $548 million in damages related to its original Samsung infringement trial, and is now seeking another $180 million in related damages and interest from Samsung's continued post-verdict infringement of those same patents.