Apple's iOS 9 now on 3 out of 4 compatible devices as adoption rates rise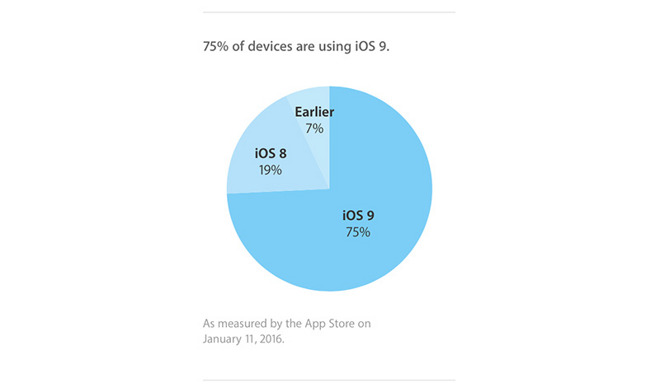 AppleInsider may earn an affiliate commission on purchases made through links on our site.
In statistics shared with developers on Monday, Apple revealed distribution of the latest iOS 9 mobile operating system now stands at 75 percent, a number up 5 percent since the last check in November.
According to Apple's latest iOS App Store checks, published to the company's developer webpage, 75 percent of compatible devices are running some ilk of iOS 9. As iOS 9 distribution increases, older operating system share decreases, with 19 percent of users on iOS 8 and another 7 percent running older OS versions.
In November, iOS 9 share was pegged at 70 percent, growing at a rate of about 1 percent per week, roughly in line with current projections.
Adoption of Apple's current iOS is far outpacing that of its iOS 8 predecessor, which only managed to eke out a 68 percent distribution rate at the same time last year due to a botched point update that brought adoption to a standstill. It took iOS 8 some six months to make it onto 77 percent of compatible devices.
Looking forward, Apple on Monday released a feature-packed iOS 9.3 beta that should drive adoption even higher. The test build is one of the more substantial point updates in recent memory and includes a new nighttime viewing mode called Night Shift, secure Notes and various educational tweaks for iPad like user profiles.