Apple investigating Apple Watch band that transforms into a protective case, stand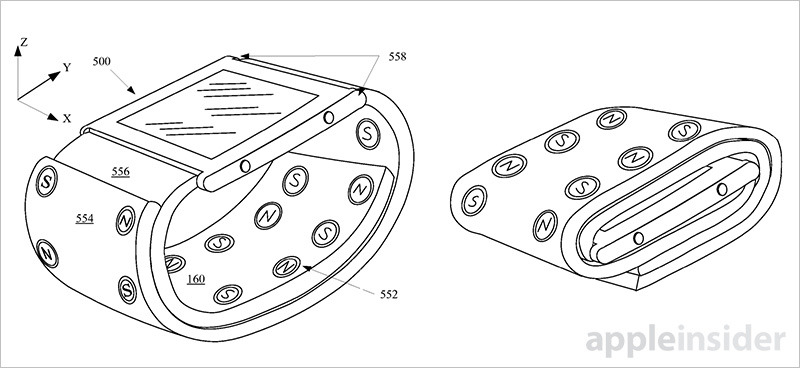 Apple Watch launched with a total of six swappable band styles, but a patent application published Thursday suggests Apple is investigating a successor model with magnetic closure that doubles as a protective encasement and stand when not on the wrist.
Titled simply as "Magnetic wristband," Apple's filing with the U.S. Patent and Trademark Office describes a watchband similar to magnetic closure-style straps like the leather loop and Milanese loop. The band in Apple's application, however, employs a convertible design with two wrapping configurations, one for on-the-wrist wear and another for storage.
The proposed band is comprised of two separate straps made from malleable material into which a series of magnets are embedded in alternating or varying patterns of polarity. For example, one strap might include multiple magnets running its length, aligned in a repeating north, north, south, north, north (N, N, S, N, N) pattern, while the second strap's magnet layout is an inverse of that combination. When brought in close proximity, the magnets attract in a vertical stack configuration.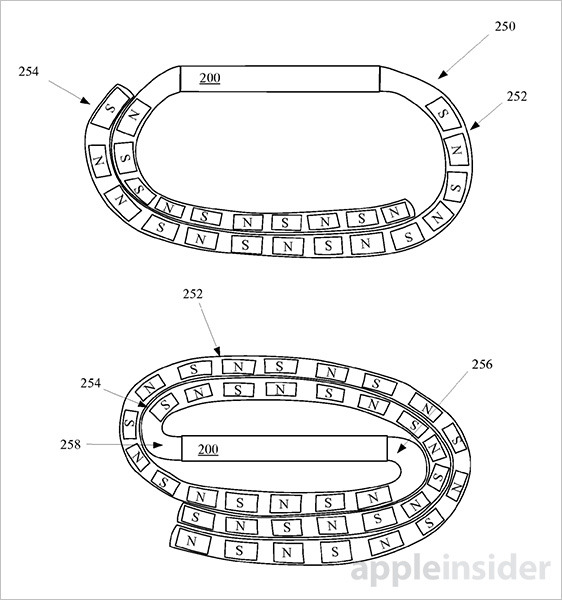 In addition to serving as a wristwatch band, Apple's strap is flexible enough to bend in an opposite direction when not in use, wrapping the watch and protecting its face and body. As designed, the band would coil up around the Apple Watch case and link together with the same magnetic forces used to secure it when in strap form.
For a device like Apple Watch, especially Sport models with Ion-X glass, the added layer of protection could potentially save hundreds of dollars in repair costs. Further, a protective strap would be ideal for covering Apple Watch's delicate optical heart rate sensor.
Apple mentions alternative embodiments in which the magnetic straps might be utilized to temporarily fasten a user's watch to a larger magnetic surface, such as a refrigerator or computer. As mentioned above, other proposals include a method of folding the strap onto itself, creating a device stand.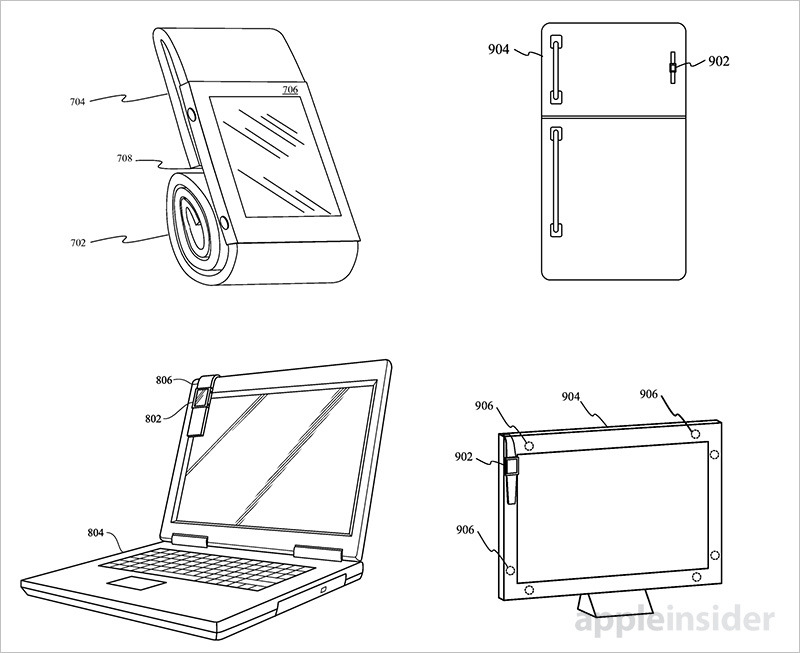 There is no indication that Apple will bring the wristband to market, but the company has introduced new Sport Band colors, leather straps made in collaboration with Hermes and other accessories since Watch debuted last year. It is possible that a second-generation device, rumored to enter trial production this month, could come with a handful of new band options.
Apple's Watch band patent application was first filed for in August 2015 and credits Erik G. de Jong as its inventor.