Apple adds 20 Flyover cities, new Traffic and Nearby data to Maps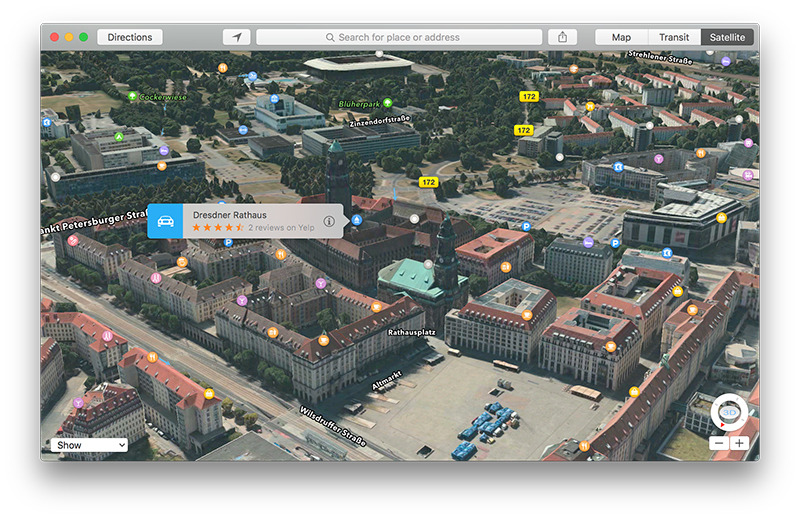 As part of Apple's continued Maps buildout effort, the company on Wednesday added 3D Flyover, traffic and point of interest data to its in-house mapping solution, including popular locales like the Virgin Islands and Taiwan.
In what has become a monthly routine, Apple expanded its running list of supported Flyover cities to include 20 new locations in Europe, Africa, Japan and the U.S. Including today's additions, Apple's 3D Flyover feature is available in 240 areas around the world.
Adelaide, Australia
Amiens, France
Berne, Switzerland
Bremen, Germany
Columbus, OH
Dresden, Germany
Eindhoven, Netherlands
Johannesburg, South Africa
La Rochelle, France
Louisville, KY
Middlesbrough, UK
Nantes, France
Salzburg, Austria
South Bend, IN
Springfield, MO
Taormina, Italy
Toulouse, France
Toyama, Japan
Tucson, AZ
Virgin Islands
Apple uses high-resolution photos and sophisticated three-dimensional models to render Maps' Flyover imagery. The feature makes it easy to spot landmarks, buildings and other objects of interest and is marketed as an alternative to Google's ground-level Street View product.
In addition to new Flyover cities, Apple activated live Traffic data for Taiwan. Finland was also added to the list of countries serving up data for iOS 9's Nearby, a feature that suggests close by points of interest based on their proximity.
Offered up in Maps and Siri Suggestions, the service automatically populates a set of predefined search categories, such as Food and Health, with information based on a user's location. Apple first launched Nearby in September with data for six major markets, adding three more in the past few months.
Apple's iOS Feature Availability webpage was most recently updated two weeks ago.