Apple Maps vans operating around the clock in run-up to 'iOS 10' debut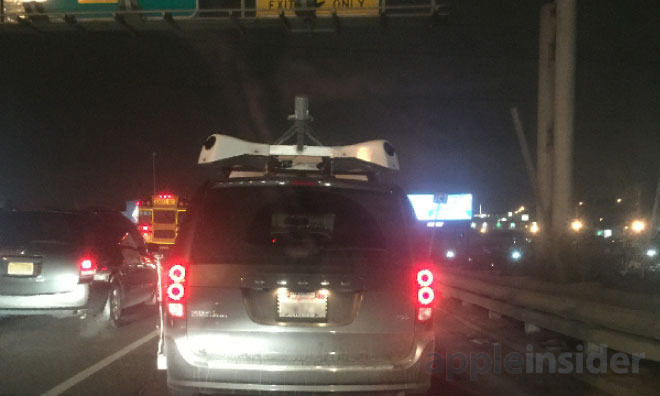 With Apple widely expected to announce improvements for its in-house mapping effort alongside "iOS 10" this summer, the company's fleet of sensor-laden vans continues to ply the streets — even at night.
Apple's vans have been spotted with increasing regularity since they first appeared. A snapshot provided by AppleInsider reader JP shows one of the readily-identifiable vehicles plying the highways outside of New York City after dark, while others have been seen on late-night runs through Boston and its surrounding areas.
After a few months of mystery, Apple officially acknowledged the maps data program last June. The company now provides a listing of locations where the vans are expected to appear in the immediate future.
The sensors attached to the vans — cameras, LiDAR, and high-sensitivity GPS, among others — point to a mapping effort broadly similar to that run by Google.
That program is likely to include both ground truth operations as well as environmental capture. The former verifies that roads are where the map thinks they are; the latter scans and collects data on the surrounding area, including depth maps and photographs.
Apple's language surrounding its mapping efforts point to an expansion similar to Google's Street View, and such a feature could be unveiled as soon as this summer. The company is likely to announce iOS 10 — its next-generation mobile operating system — at the annual Worldwide Developers Conference held in June.