Inside iOS 9.3: Apple will allow third-party apps to add music to your iCloud Music Library [u]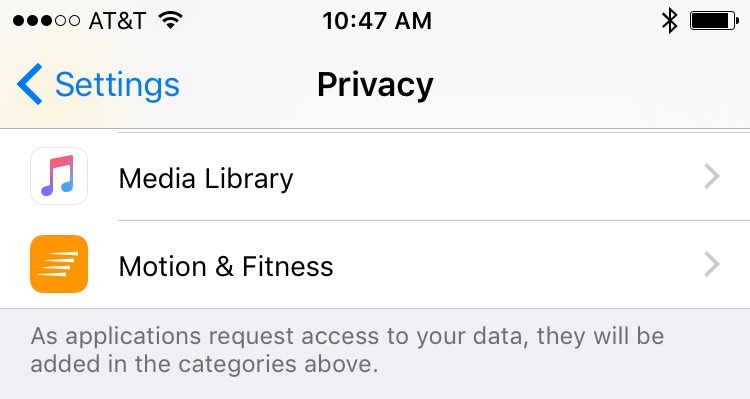 With its forthcoming iOS 9.3 update, Apple plans to allow third-party apps to add songs to a user's iCloud Music Library, eliminating the need to use iTunes on a Mac or PC to upload songs to the cloud or add them to the iOS Music app.
Users running any of Apple's first three iOS 9.3 betas can find access controls for "Media Library" under the Privacy section in Settings. This doesn't prevent apps from reading your library, though — instead, it controls which apps can write to it.
As explained by developer Ben Dodson, iOS 9.3 will give developers the ability to add songs to a user's iCloud Music Library. For an app to do so requires permission from the user.
Because the feature requires use of a new API found in iOS 9.3, there are no apps that take advantage of the capability yet. But presumably an app like SoundCloud might make it possible for a user to export a song or playlist to an iCloud Music Library with a user's permission.
Update: Dodson further clarified that songs imported via the new API must be found in the Apple Music service — Â that is to say they can be matched, but not uploaded. Uploading unmatched songs to an iCloud Music Library will presumably still require a Mac or PC with iTunes.
iCloud Music Library allows Apple Music and iTunes Match subscribers to upload their MP3 collection to the cloud, including songs that are not available on the iTunes Store. Currently, users must access the desktop version of iTunes on a Mac or PC to upload or match songs to their iCloud Music Library.
But the new "Media Library" permissions in iOS 9.3 should make it easier for users to manage their music library directly from an iPhone or iPad, without the need for a separate, full-fledged computer.
For more on the upcoming release of iOS 9.3, see AppleInsider's in-depth coverage: