Apple outlines News app ads, includes 'native ads' that display directly in content feeds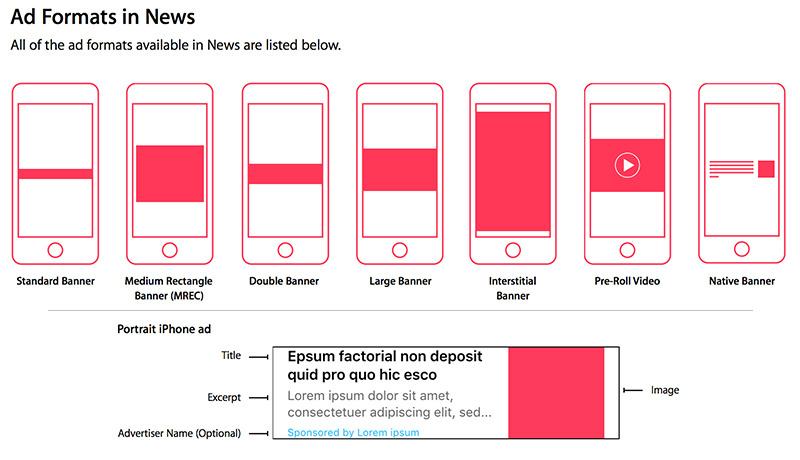 Apple is preparing to expand its content-aggregating News app to support advanced advertising assets, with some specifications allowing for so-called "native ads" that appear in users' feeds inline with regular articles.
The upcoming ad functionality was detailed in a new developer document titled Ad Specifications for iAd (PDF link), which outlines seven ad formats — Standard Banner, Medium Rectangle Banner, Double Banner, Large Banner, Interstitial Banner, Pre-Roll Video and Native Banner — content creators can deploy in the iOS News app. Business Insider reported on the document's publication earlier today.
Most iPhone and iPad users have likely encountered one of Apple's banner ad blocks while browsing the App Store, iTunes or the Web via Safari, but the Native Banner specification is a new beast introduced to comply with the News app's RSS-style timeline.
As noted by Apple, the native ads are designed to pop up in the News content feed between normal content, with similar formatting of 22 to 64 text characters and a thumbnail photo. Like Web solutions provided by Google and scrolling ads seen in apps like Amazon and eBay, Apple's native banners will be distinctly labeled as promotional content with "Sponsored by" text appearing at the bottom of each banner ad.
The News app ad format specs come two months after reports claimed Apple had plans to wind down iAD operations. Instead of creating advertisements in-house, the company is said to be pushing an automated service that leaves ad creation, sales and management to publishers. As part of the supposed strategy shift, it was expected that publishers would keep all generated revenue, but Business Insider claims the customary 30 percent rate is to be applied to News spots.