Alleged parts leaks suggests Apple could boost battery life, feature ceramic body with 'iPhone 7'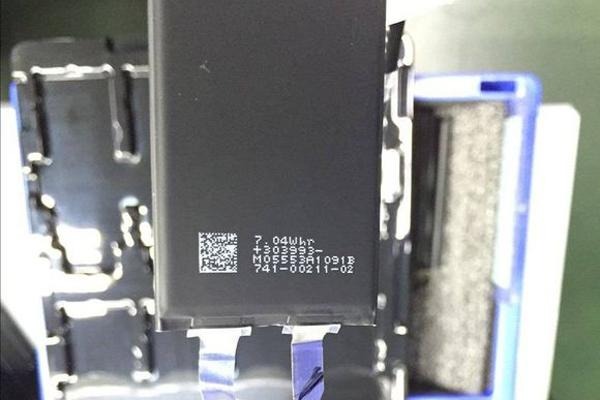 AppleInsider is supported by its audience and may earn commission as an Amazon Associate and affiliate partner on qualifying purchases. These affiliate partnerships do not influence our editorial content.
A battery claimed to be destined for the anticipated "iPhone 7" shows a larger capacity than the current iPhone 6s, suggesting Apple may be able to squeeze more capacity into a smaller frame — and potentially with an all-new casing material.
The alleged "iPhone 7" pictures and details were shared on Friday by digi.tech.qq.com, which came across a purported Apple battery advertised with a 7.04Whr capacity. If legitimate, that would be larger than the 6.61Whr battery found in the iPhone 6s.
Without corresponding voltage, the true capacity of the battery in terms of milliampere-hours cannot be determined. But presumably a larger watt-hour rating would result in a battery with greater capacity. The images were spotlighted by MacRumors on Friday.
The original report also included somewhat questionable, though interesting claims to go along with the pictures.
Specifically, it said that Apple's "iPhone 7" will sport a ceramic body. If so, that would be a major change for Apple, which has previously made iPhone chassis out of metal, glass and plastic.
The idea of a ceramic handset is not new — Â the 2012 HTC One S featured a ceramic body with "Micro Arc Oxidation" which gave it a robust exterior. However, at the time, the technology was also prone to chipping, which led HTC to abandon that design.
Apple itself has toyed with the idea of ceramic iPhones, as revealed by patent filings from the company. However, Apple has dabbled in many materials, including sapphire glass and an alloy branded as Liquidmetal, but has not used them in significant ways largely due to prohibitive costs. As a result, the claims of a ceramic "iPhone 7" should be taken with a grain of salt.
To date, most of the "iPhone 7" related leaks have supported rumors that the biggest — and most controversial — change to the device might be the elimination of the 3.5mm headphone jack. It's been said Apple is considering removing the port to allow the device to have an all-new, thinner-than-ever design.
Part leaks said to be for the "iPhone 7" have ramped up in recent weeks, which likely corresponds with Apple's own start of production ahead of an anticipated fall launch. It's expected that Apple will officially announce its next-generation iPhone in September.