Apple, US prosecutors to present and cross-examine witnesses at iPhone encryption hearing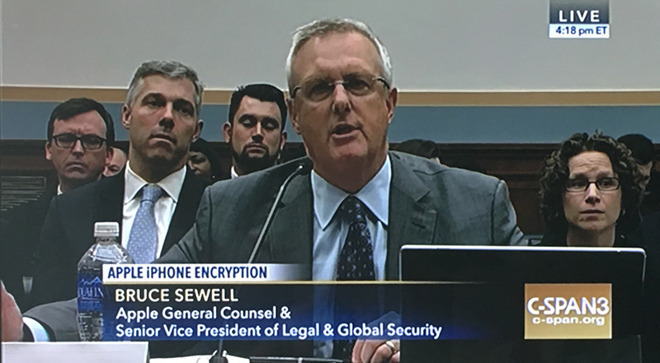 The U.S. government filed, and was subsequently granted, a request to allow prosecutors and Apple attorneys the chance to present and cross examine witnesses at next week's court hearing over unlocking an encrypted iPhone tied to last year's San Bernardino attack.
An Apple lawyer anonymously shared the development with reporters in a conference call on Friday, saying that while the Justice Department's request is unusual, it has agreed to supply two witnesses whose declarations have already been submitted in writing, Reuters reports. Experts who offer declarations are not usually questioned in normal proceedings, a legal expert told AppleInsider.
Apple will make security and privacy manager Erik Neuenschwander and manager of Apple's Global Privacy & Law Enforcement Compliance Team Lisa Olle available for cross-examination, the attorney said.
U.S. Federal Magistrate Judge Sheri Pym will preside over next Tuesday's hearing regarding Apple's challenge of an order to help the FBI unlock an iPhone 5c linked to Syed Rizwan Farook, one of two now-deceased terror suspects in December's San Bernardino shootings. Apple argues that the government is overreaching in its request, which would force the company to write a flawed version of iOS to break into Farook's work-issued iPhone.
Neuenschwander has gone on record as saying the government demand places undue burden on Apple, which would have to assign a special team and dedicate weeks of man hours toward the creation of the so-called "GovtOS." Further, employees who write the code could face threats from "bad actors," as they would have knowledge of a software workaround to an encryption system protecting hundreds of millions of devices worldwide.
Olle's declaration is equally important to Apple's case, as she put a timeline to events surrounding Apple's role in the San Bernardino investigation, specifically multiple data access requests and warrants for the same submitted by the FBI.
Apple complied with numerous information requests after first being contacted on the afternoon of Dec. 5, three days after the attack. Likely to be discussed at Tuesday's hearing is the series of events leading up to a warrant served on Jan. 22 for access to an iCloud account attached to Farook's work-issued iPhone, a lynchpin in Apple's case. It was learned in February that FBI agents ordered the San Bernardino County Department of Health, Farook's former employer and legal owner of the iPhone 5c, to reset the Apple ID password associated with the device on Dec. 6. Engineers, as well as CEO Tim Cook, said the decision was a misstep as it disabled iCloud's automatic backup feature.
Taking the stand for the government are FBI technicians Christopher Pluhar and Stacey Perino, who in their declarations claim investigators have exhausted all possible options in attempts to unlock Farook's phone, reports BuzzFeed News. The Justice Department is asserting the All Writs Act to compel Apple's assistance, a statute designed to grant courts authority to issue orders when no other judicial tools are available.
Pluhar's assertions and technical expertise have already come under fire. In his declaration, Pluhar said he viewed an iCloud settings screen on a device used in attempts to restore Farook's iCloud backup, noting that auto-backups for "Mail," "Photos" and "Notes" were "turned off."
Neuenschwander in an attachment to Apple's final brief said Pluhar was probably looking at the wrong screen. The settings menu for iCloud backups does not offer this level of granularity; there is no "on" and "off" option for "Mail," "Photos" and "Notes," he said.
Apple and government prosecutors are set to meet in court next Tuesday.