Apple Watch Hermes bands to be sold separately, come in 4 new colors on April 19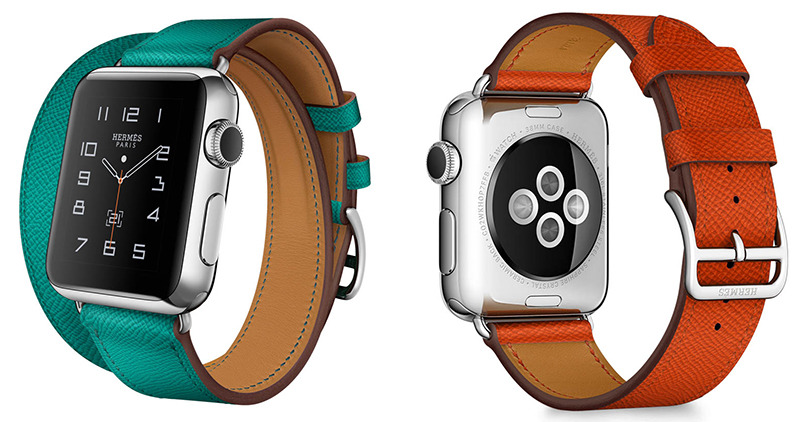 Apple and French fashion house Hermès on Thursday revealed an upcoming expansion to their collaborative Apple Watch effort, unveiling four new band colors and announcing that each luxury leather accessory will be available for individual purchase later this month.
Apple and Hermès chose to break the news through various fashion outlets like Elle, which said the new editions are due to arrive at Apple Store and Hermès outlets on April 19. Hermès also updated its dedicated Apple Watch website with color and pricing details.
When the special luxury package last October — a stainless steel Watch with special watch faces and exclusive leather straps — included bands were offered in Fauve (deer brown), Etain (tin gray), Capucine (red), and Bleu Jean (blue). Color availability was dependent on size and style.
In two weeks, the straps become standalone accessories for the first time, and Hermès will add peacock blue, sapphire blue, white and its iconic orange shade to its Apple Watch palette.
As for pricing, individual bands start at $340 for 38mm and 42mm Single Tour versions. The 42mm model will be available in sapphire blue, deer brown, fire orange and black, while the 38mm version adds white and peacock blue to that list.
The popular Double Tour design, limited to 38mm Apple Watch models, sells for $490 for both regular and long strap lengths. Regular models will be available in white, peacock blue, sapphire blue, tin gray, deer brown and fire orange, while the "long" edition comes in deer brown. Finally, the large 42mm Cuff design will sell for $690 and is limited to deer brown.
Initially available only at select brick-and-mortar locations, Apple Watch Hermès went up for online sale in January. Whether Hermès plans to extend the new colorways to complete device and strap packages is unclear.