Apple's iPad multitasking has 'profound impact' on live video viewing, MLB finds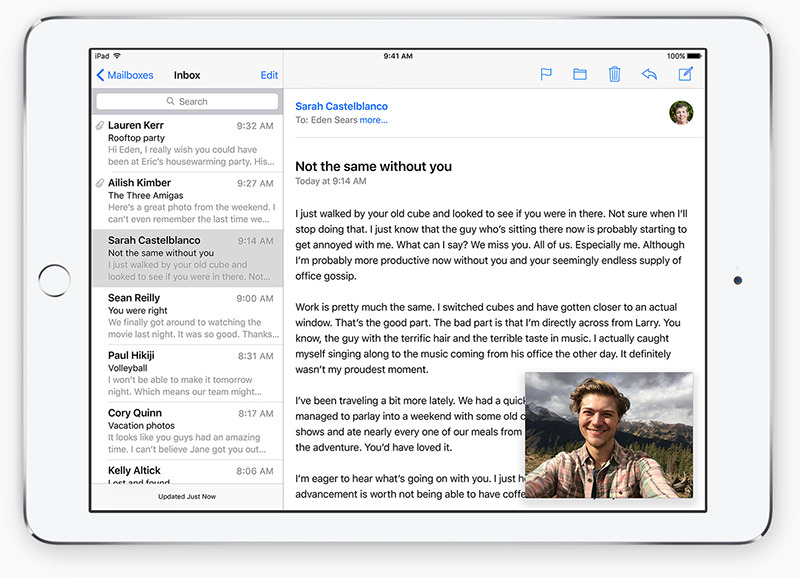 A recent study by Major League Baseball found iPad multitasking introduced in Apple's iOS 9 release, including Split View and picture-in-picture video, contributed to an 86 percent jump in live streaming over the last year.
The sports organization, whose MLB.com At Bat app was one of the first to take advantage of Apple's multitasking APIs, shared recently gathered engagement data with TechCrunch on Friday, noting a sharp increase in live video viewership.
Over the first two weeks of this year's season, average minutes watched through the At Bat iPad app increased 20 percent compared to last year, the publication reports. Figures were even higher for MLB.TV streams, as users with access to the premium service watched an average of 162 minutes per day, equating to an 86 percent increase year-over-year.
MLB attributes the bump in large part to iPad multitasking support, features unavailable to At Bat users during the 2015 season. Lending credence to that theory is the average time viewers spend watching live streams without multitasking, a number that currently stands at 101 minutes per day.
TechCrunch notes MLB limited usage statistics to iPads with support for iOS 9 multitasking, and lumped all multitasking options into a catchall category for the study.
Unveiled during last year's Worldwide Developers Conference and launched in September, iPad multitasking takes advantage of the slate's extra screen real estate by allowing users to run two apps concurrently. Depending on hardware, the feature offers three viewing options: a two-up Split View mode; a picture-in-picture mode with resizable window; and the quick-access Slide Over. Slide Over and picture-in-picture are supported by both iPad Pro models, iPad Air or later and iPad mini 2 or later. Split View is restricted to iPad Pro, iPad Air 2 and iPad mini 4.