Intel pushes USB-C as headphone jack's successor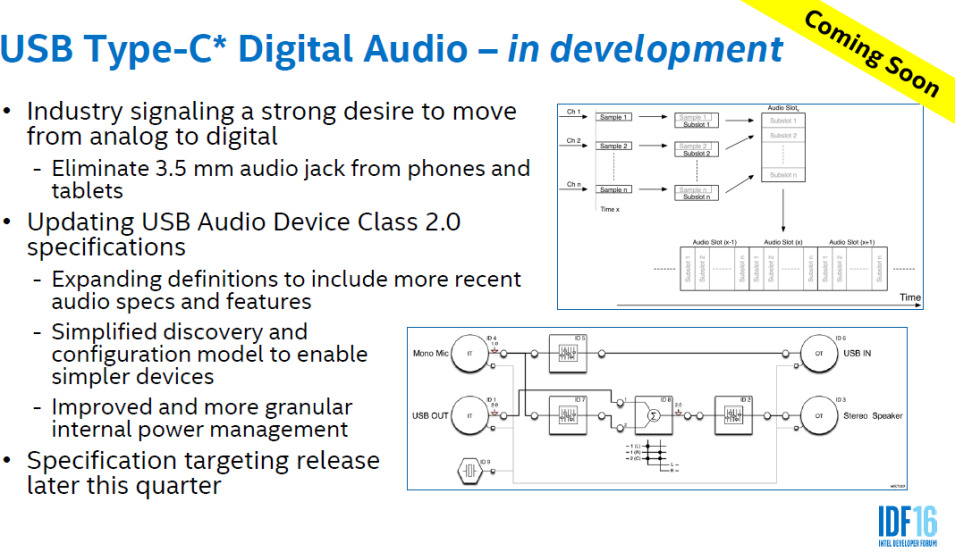 The technology world has a seething hatred of the traditional 3.5-millimeter headphone jack — or so it seems, given that chip giant Intel is the latest company to propose replacing the aging plug with a digital alternative.
Intel would prefer that future devices, including smartphones and tablets, eschew the stalwart headphone jack for USB-C. The firm made its case at a recent development conference with the unveiling of USB Type-C Digital Audio, as noted by AnandTech.
In the near term, Intel would simply like to replace the jack with USB-C's analog audio specification. This would be "basically a connector replacement," Intel said.
Looking toward the future, they hope that adopting USB-C will help catalyze the movement from analog to digital audio.
From a user's perspective, the move to digital headphones could be a good one. Improved audio quality is one obvious plus; the ability to communicate directly with — and draw power from — a mobile device means that headphones could become smarter and in some cases lighter, since powered models would no longer require built-in batteries.
This shift would also benefit Intel, the world's largest semiconductor manufacturer by a country mile, in obvious ways.
There is mounting evidence that Apple is contemplating a similar move, though most people believe the iPhone maker would choose its own Lightning connector over USB-C. If Intel's proposal moves forward, the battle between USB-C and Lightning will be an interesting — and likely expensive — one waged on the battlefield of the world's most popular consumer device.