ANZ's Apple Pay exclusivity drives credit card applications, other Australian banks take notice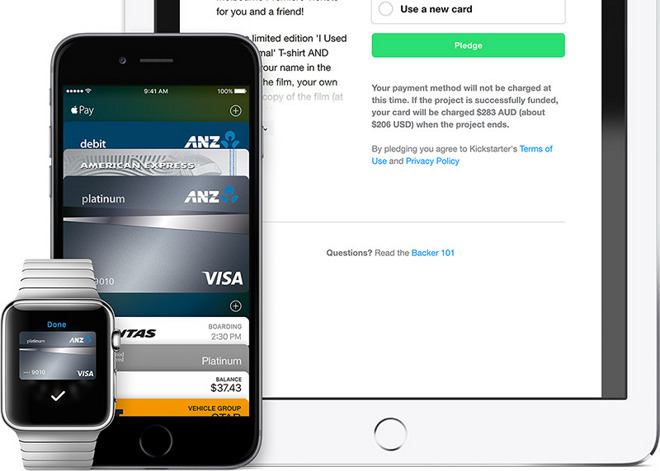 Australian bank ANZ earlier this month observed a 20 percent spike in online credit card and deposit account applications after announcing support for Apple Pay, results that have prompted holdouts to rethink their position on Apple's payments service.
In April, ANZ became the first of Australia's "big four" banks to break rank and adopt Apple Pay, rolling out initial support for bank issued Visa credit and debit cards. Shortly after the service launched, chief executive Shayne Elliott credited the ensuing social media buzz with a 20 percent uptick in applications and heightened interest in the company's website, The Australian Financial Review reported last week. The bank's Apple Pay mini site, for example, logged 61,000 unique visitors over four days.
The remaining big four banks, Commonwealth Bank, National Australia Bank and Westpac, resisted Apple's advances in a bid to protect their credit card transaction fees, which the report estimates is worth billions of dollars. To net Apple Pay, ANZ supposedly agreed to offer Apple a slice of its interchange fees, though specifics surrounding the deal remain secret.
According to the publication, the Reserve Bank of Australia is looking to lower transaction fees to 30 cents for $100 of transactions, down from 50 cents per $100. By comparison, Apple is thought to net 15 cents for every $100 Apple Pay transaction in the U.S.
With ANZ demonstrating a successful launch, Commonwealth, NAB and Westpac are once again negotiating terms for future Apple Pay integration, the report said. The banks are apparently willing to entertain the idea, as Westpac already offers a touchless payments solution for Samsung devices, while NAB introduced its own branded product for Android in January.
Transaction fees, however, are not Apple's endgame. The Cupertino tech giant has made it abundantly clear that Apple Pay is first and foremost a value added iOS platform feature. For example, when negotiating terms to bring Apple Pay into China, Apple reportedly agreed to take half of its normal fee rate. Revenue from Apple Pay pales in comparison to hardware device sales and the sustained income of a "sticky" ecosystem.
Apple Pay is currently available in the U.S., Canada, China, Australia, Singapore, and the UK. With the introduction of iPhone SE, Apple's entire smartphone lineup — and Apple Watch — supports touchless NFC transactions.