Apple's Tim Cook talks retail, manufacturing, encryption & more with Indian PM Modi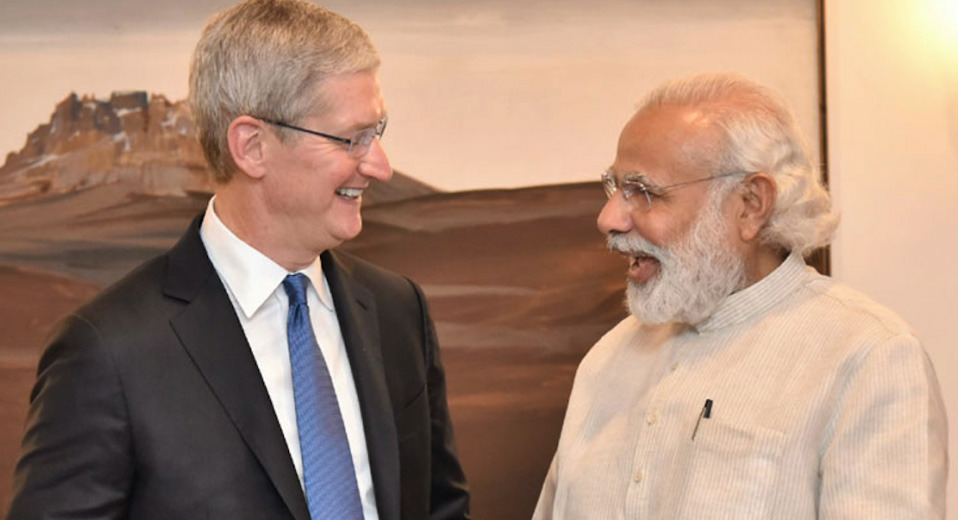 As anticipated, Apple CEO Tim Cook met with Indian Prime Minister Narendra Modi on Saturday, talking about issues such as retail stores, manufacturing, and app development, according to reports.
The pair also discussed Modi's efforts in health, education, and digital security, including encryption.
Cook commented that he appreciated Modi's work towards renewable energy and easing business restrictions. Although Apple is fighting to sell used iPhones in India, the company is also on a path to launching its first retail stores, despite rules normally requiring foreign businesses with a single-brand store to source 30 percent of goods from domestic suppliers.
Together the leaders launched an updated Narendra Modi mobile app, which has gained a new volunteering network, a homescreen news feed, and "My Network," a section with forums and daily tasks.
Yesterday, Cook sparked a minor incident when he visited an Apple reseller in Gurgaon, the Economic Times said. The executive reportedly encountered what he thought was a counterfeit turquoise iPhone case, and demanded an immediate explanation, causing both functionaries and Apple India officials to scramble.
Eventually it was discovered that the case was genuine, but might simply have been unfamiliar to Cook because it wasn't sold in some other markets like the United States.
The CEO has already left India on his way to the Netherlands for Startup Fest Europe. He in fact made a stop at the Mall of the Emirates Apple Store in Dubai, speaking with workers and customers.