Apple could face slower upgrade cycles as study shows iPhone owners clinging to devices longer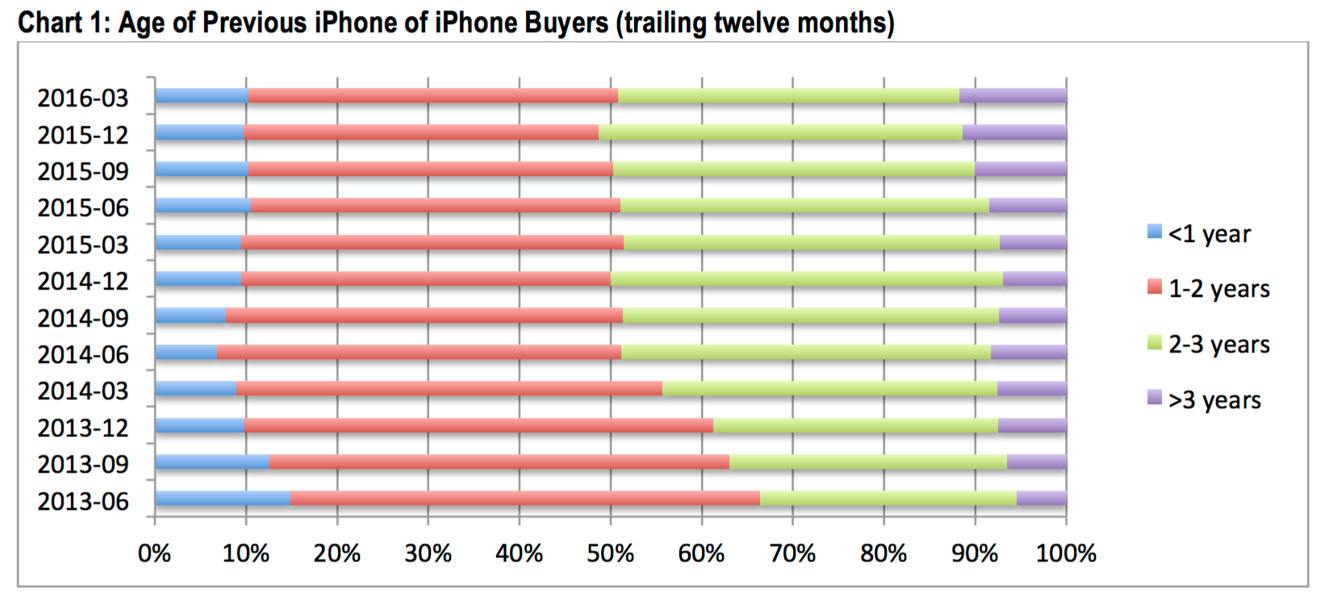 AppleInsider is supported by its audience and may earn commission as an Amazon Associate and affiliate partner on qualifying purchases. These affiliate partnerships do not influence our editorial content.
A slower rate of technical improvements in the iPhone, coupled with new carrier financing plans phasing out two-year subsidies, have helped to change how frequently mobile customers upgrade their Apple handset, a new study has revealed.
Most iPhone owners are now keeping their Apple an average of three months longer than they did in the past, according to a new survey published this week by Consumer Intelligence Research Partners.
"Over the past almost three years, the average age of a new iPhone buyer's previous iPhone has increased by approximately three months" - Mike Levin, CIRP
In the past, iPhone owners upgraded roughly every two years, thanks to typical two-year service contract subsidies. However, the pace of upgrading has been steadily slowing: In 2013, only 5 percent of all iPhones were three years old, but by the end of the March 2016 quarter, that share had increased to 12 percent.
And in June 2013, 66 percent of all iPhones were either under a year old or at most two years old. By March 2016, that had fallen to 51 percent.
"Overall, over the past almost three years, the average age of a new iPhone buyer's previous iPhone has increased by approximately three months," said Mike Levin, a CIRP partner and company co-founder.
Levin and fellow partner Josh Lowitz attribute the longer ownership times to two factors: the slower rollout of new features, as well as a change in carrier financing plans.

In the past, carriers encouraged customers to upgrade their phones every two years by offering subsidies and discounts on new phones. Now, however, the plans reward customers who hold on to their phones and have paid them off in full.
"This motivator appears to outweigh the impact of any early upgrade options that carriers offer with the new financing plans, and the increased availability of trade-in programs and used phone purchase websites," the study reads.
Since new iPhone sales are increasingly made to existing owners and these owners are keeping their phones longer and upgrading less often, Levin and Lowitz predict a slowing of iPhone sales in the future.
Apple is widely expected to launch its next-generation handset, unofficially known as the "iPhone 7," in September. Leaks thus far have suggested its appearance will be largely similar to that of the current iPhone 6s series, but with a thinner design that could ditch the 3.5-millimeter headphone jack.
The largest changes are expected to be exclusive to the larger 5.5-inch "iPhone 7 Plus" model, including a new dual-lens camera design, and potentially a magnetic Smart Connector that could be used for charging or even data transfer, just as it works on the iPad Pro lineup.