iOS 10 rich notifications will come to devices without 3D Touch, Apple tells developers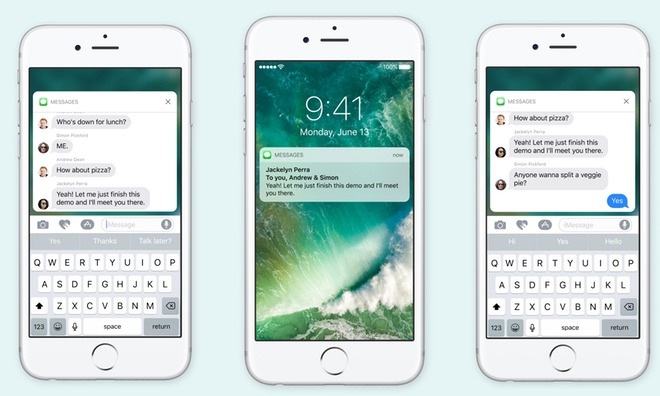 Though Apple showcased the new rich notifications in iOS 10 using 3D Touch on an iPhone 6s, the same functionality will also come to older iPhone models without pressure sensitive displays, developers have been informed.
"Support for rich notifications is optimized for 3D Touch, and in iOS 10 beta 1 the feature is available only on iPhone 6s and iPhone 6s Plus," notes accompanying the first beta of iOS 10 state. "Future betas will provide access to this functionality for users of iPhone models without support for 3D Touch."
In demonstrating rich notifications in iOS 10 at the Worldwide Developers Conference keynote on Monday, Apple showed how 3D Touch could be used to open a notification and respond to it directly from the lock screen.
Similarly, Apple's website previewing iOS 10 shows using the peek and pop features of 3D Touch to open a text message and quickly respond.
The notes in iOS 10 reveal that rich notification support will be available to legacy devices like the iPhone 6 and earlier, as well as the iPhone SE and compatible iPad models. Currently, the iPhone 6s and iPhone 6s Plus are the only Apple devices that support 3D Touch, though it is also expected in the next-generation "iPhone 7."
Exactly how rich notifications will work on devices without 3D Touch was not explained by Apple. Given that it wasn't demonstrated and isn't included in the first beta, it's possible that the company is still figuring out the best way to offer rich notifications without a firm press via 3D Touch.
Regardless, Apple's signal to developers indicates that devices beyond the iPhone 6s series will be able to take advantage of rich notifications once iOS 10 launches this fall. The mobile operating system will be a free update, and is compatible with the iPhone 5 or newer, iPad mini 2 or newer, and sixth-generation iPod touch.