Apple to reveal fiscal Q3 2016 earnings on July 26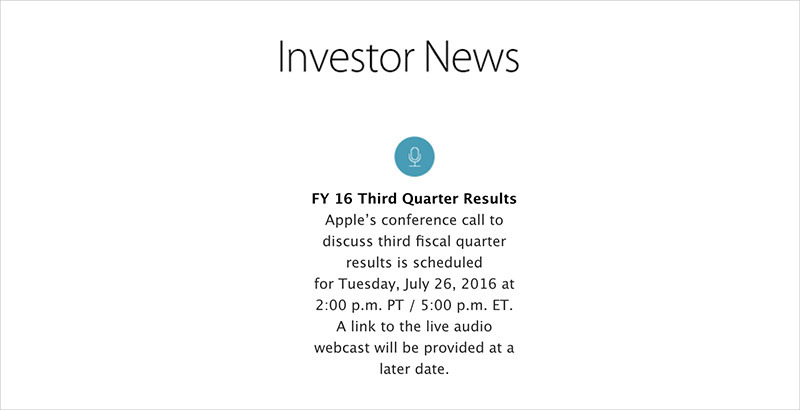 Apple on Monday announced plans to release a quarterly earnings report for the third fiscal quarter of 2016 on July 26, which is to be detailed in a following investors conference call.
Apple posted scheduling details of the coming call to its Investor Relations webpage earlier today, with the company saying the usual live stream kicks off on Thursday, July 26 at 2 p.m. Pacific. While not mentioned in the announcement, CEO Tim Cook and CFO Luca Maestri are expected to attend.
Apple suffered its first ever year-over-year contraction in iPhone sales last quarter, ending a streak of record breaking periods dating back to the smartphone's launch in 2007. Handset revenue was down 18 percent for the three-month period ending in March, a figure that combined with disappointing iPad and Mac shipments to drag down total company revenue by some 13 percent.
The slowdown was expected, however, as Apple faced especially tough compares against early 2015, which saw unusually high turnover due to pent up iPhone 6 demand. Other sectors, most notably iPad, have been in decline for months. Apple services like iTunes, the App Store, Apple Music, iCloud, and to a lesser extent Apple Pay and licensing, blunted the downturn.
For the coming quarter, Apple is guiding for between $41 billion and $43 billion in revenue and a gross margin between 37.5 percent and 38 percent, well below results for the same period last year. Operating expenses are projected to fall between $6 billion and $6.1 billion, in line with historical growth.
AppleInsider will be covering Apple's conference call for the third fiscal quarter of 2016 live on Thursday, July 26, starting at 2 p.m. Pacific, 5 p.m. Eastern.