New photos show possible Lightning-equipped EarPods for Apple's 'iPhone 7'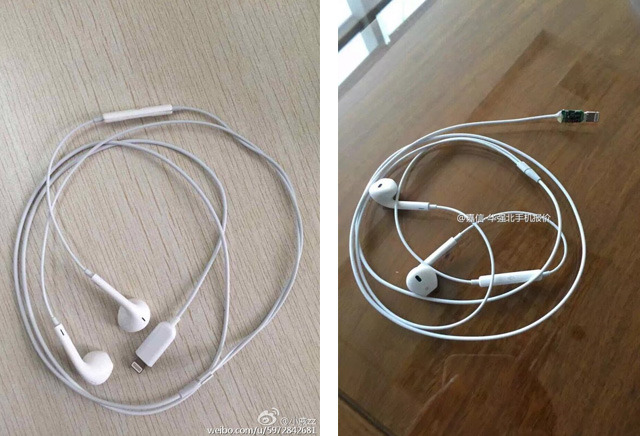 A pair of photos published on Wednesday show what are claimed to be Lightning-ready versions of the EarPods bundled with iPhones, presumably intended for Apple's "iPhone 7" and "iPhone 7 Plus."
The images were posted to Chinese blogging site Weibo, often a source of leaks within Apple's supply chain, and highlighted by iPhone7.nl. Apart from the presence of a flat, elongated Lightning connector, the headphones are similar to the EarPods bundled with the iPhone 6s, including an inline remote.
The authenticity of the gear is difficult to determine, but would fall in line with expectations that Apple is planning to remove the 3.5mm headphone jack from the "iPhone 7" line, forcing buyers to use either Lightning or Bluetooth for external audio. Earlier today, Apple supplier Cirrus Logic unveiled an authorized Lightning headphone development kit.
Using Lightning would enable higher-quality sound, but also render many headphones, speakers, and other 3.5mm accessories useless, at least without an adapter. Apple could potentially include one with new iPhones to ease the transition.
The "iPhone 7" is expected to arrive this fall, most likely in Apple's normal September launch window. Upgrades should focus primarily on speed, capacity, and camera technology, though the bigger 5.5-inch model might also include an iPad Pro-style Smart Connector.