WaterproofGate: Samsung's high end Galaxy S7 fails Consumer Reports tests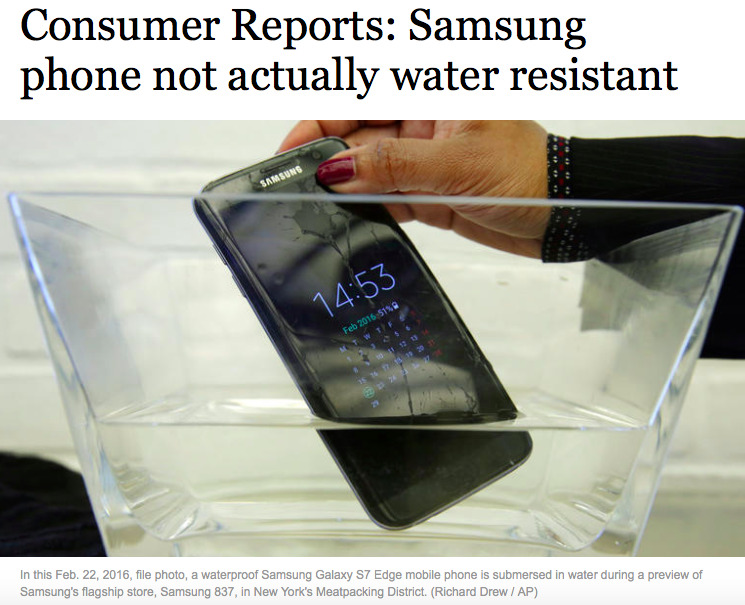 Despite being "IP 68 certified" to resist extended liquid intrusion in up to five feet of water for 30 minutes, Samsung's most expensive Galaxy S7 model repeatedly failed tests performed by Consumer Reports.
Consumer Reports said it can't recommend the ruggedized Galaxy S7 Active, which sells at a $100 premium over the standard model, because it doesn't meet Samsung's own claims for water resistance.
According to an AP report, Consumer Reports director of electronics testing Maria Rerecich noted that she was surprised the model failed, but purchased two models and repeated the test.
"We bought two and they both failed," Rerecich stated. "We bought two and they both failed" - Consumer Reports
After submerging the device, the report cited Consumer Reports as observing the Galaxy's "screen flashed green and other colors and didn't respond to touch."
The leakage appeared to be due to fit and finish issues, as "tiny bubbles appeared on the camera lenses."
Samsung also claims Galaxy S7 Active can survive "drops of up to 5 feet on a flat surface," but notes that Consumer Reports "did not test those claims."
Other Galaxy S7 models also failed Samsung's IP 68 waterproof claims
Parallel tests by Square Trade back in March also noted that Samsung's advertised claims for water resistance were inconsistent. On its own marketing page, Samsung claimed all of its Galaxy S7 models were resistant to 1 meter (3.28 feet) of water for 30 minutes, which is defined by the industry at IP 67.

However, in co-marketing claims visible on carrier partners' sites (including Verizon, captured below), Samsung claims an IP68 rating, which is a much higher rating that signifies water resistance "protection against long periods of immersion," not just "protection against temporary immersion."
CNET observed at the time that, "technically if it's only resistant to immersion up to 1 meter, however, it should be rated IP 67 and Samsung is definitely still claiming that the phones are 'water-resistant; IP 68 certified up to 30 min. in 1m of water.'"


The site also noted that tests by Square Trade involving two non-Active Galaxy S7 models (the regular S7 and S7 Edge) found that while they "survived" immersion, they were left with "audio permanently muffled and distorted."
In other tests of "breakability," Samsung's Galaxy S7 and S7 Edge models alternatively failed face down drop tests and case bending tests, resulting in overall scores that were effectively tied with Apple's iPhone 6s and 6s Plus models, despite the later not being certified for water immersion and therefore failing water tests.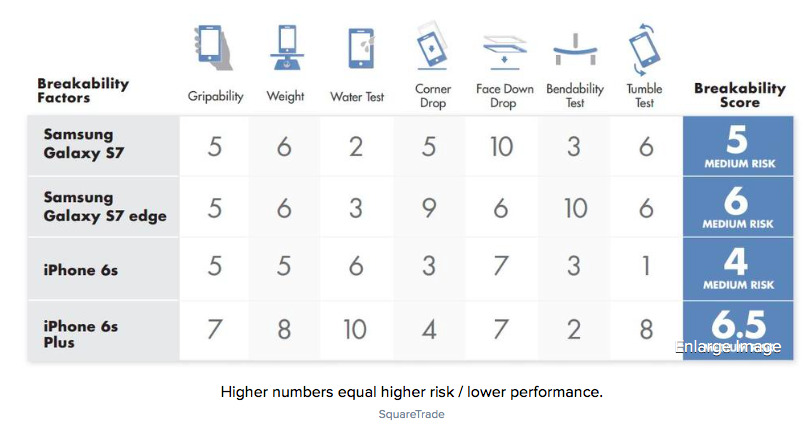 Apple and water resistance
Samsung and other Android vendors have made waterproofing of their electronics a point of differentiation against iPhones. Water damage is a common problem for smartphone users, who typically carry their phones with them everywhere.
Apple has made changes to its own iPhones to improve their resistance to water, including a new silicon seals first observed in last year's iPhone 6s models. It has not yet released an iPhone making any water resistance claims however.
The company did, however, introduce Apple Watch in parallel with a more limited IPX7 water intrusion certification. The company states that "Apple Watch is splash and water resistant but not waterproof. You can, for example, wear and use Apple Watch during exercise, in the rain, and while washing your hands, but submerging Apple Watch is not recommended."
Apple is likely working toward a higher certification of water resistance for Apple Watch, as well as a similar water immersion certification for iPhone 7, although it has made no claims so far.
Currently, the company not only discourages users from submersion but also thwarts Apple Watch developers from marketing workout-related apps related to swimming, sold under the assumption that Apple Watch is intended for extended use underwater.