Inside Apple Campus 2 and its vast expanses of sedak glass

Apple's ambitious Campus 2 project makes extensive use of massive glass panels built by German fabricator sedak, specifically chosen to blur the lines between office space inside and serene landscapes outside, much the same way that the company's products seek to blur the line between hardware and software.
The Glass of Apple
One of the most impressive elements of Apple's Campus 2 project— and the parallel Phase 2 next to it— is both virtually invisible and dramatically unmistakable: massive, virtually seamless laminated glass windows that serve double duty as walls.
The vast glass façade panels surrounding the exterior Spaceship Ring are 46 foot (14m) long and more than 10 feet (3m) tall, while the interior, courtyard-facing panels are just under 36 feet (11m) long. Both sets of panels are precisely curved to form the iconic building's cylindrical glass curtain.
Building with such enormous expanses of glass involved a novel design first explored in the construction of a prototype structure. To obtain glass panels that large, Apple turned to sedak (stylized in lower case), the world's leading manufacturer of extremely high quality, large format insulating and safety glass and structural glass elements.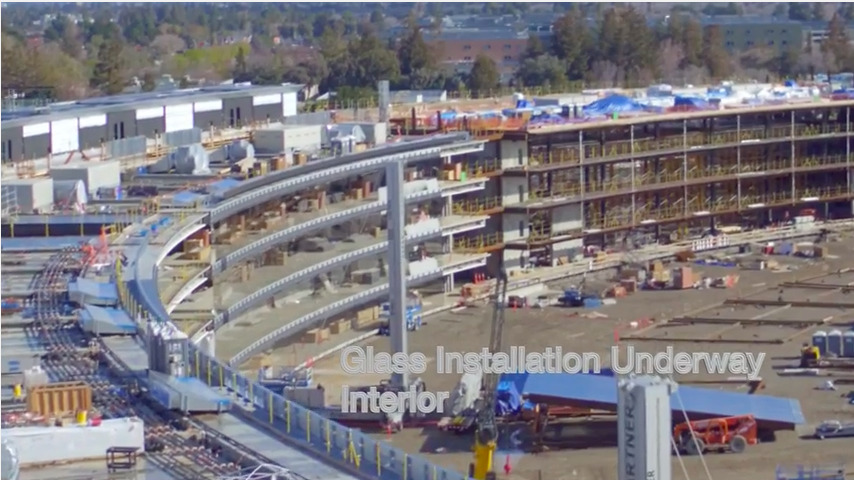 Source: Duncan Sinfield via YouTube
The use of such large glass panels on the Campus 2 project is not merely a frivolous exercise in spending money on impressive grandeur. As sedak notes on its site, "large panes are far superior to small ones" because they "save on elaborate framing and long erection times and, in the final analysis, they save costs."
Based in Gersthofen, Germany (near Augsburg, about 50 miles / 80 km northwest of Munich), sedak specializes in large format glass processing, tempering, lamination, edging, printing, coating and cold bending. The company handles all of its finishing steps in-house and ships its panels around the world.
The Apple of Glass
It's noteworthy that sedak was founded in 2007, the same year Apple introduced its iconic iPhone— the profits of which are funding Apple's aggressive corporate expansion in Cupertino, as well as in nearby Sunnyvale and San Jose in California's Silicon Valley.
Last year, Apple's chief executive Tim Cook visited the firm and reportedly told its workers "you are the best in the world" after noting how his predecessor, Steve Jobs, had devoted much of his energy in his final years into the design of Campus 2.
"We have searched, not just in the U.S. but worldwide, to find someone who could implement Steve's vision. We arrived here because nobody else is as good.""You are the best in the world" - Tim Cook, to sedak workers
On its public site, Apple says about Campus 2 that "we have approached this project with the same care and attention to detail we devote to designing any Apple product."
Apple's glassmaker of choice now has 150 employees worldwide, including a subsidiary in New York. Another parallel between the two firms is a shared drive to push the envelope in the state of the art in technology in precise fabrication. While glass panels typically have a 1/8 inch (3 mm) tolerance, sedak developed its panels to achieve Apple's requirement for incredible 1/32 inch (0.8mm) precision.

Custom to Apple's Campus 2, sedak built 872 cold bent laminates made of two single glass panes. Laminated glass, sedak notes, "is produced by bonding together two or more panes of glass with elastic, tear-resistant sheets of polyvinyl butyral (PVB), SentryGlas® or ethylene vinyl acetate (EVA). Laminated safety glass from sedak reduces the risk of injuries upon breakage of the glass, increases the residual loadbearing capacity of the laminated pane, and also insulates."
Bending large glass panels into a curved shape is commonly done as part of the tempering process. However, to obtain an optically ideal, crystal clear panel, sedak took a novel approach that involved curving the glass as the final step in lamination, following a tempering process that heats the panel to over 1,100° F (600° C) before "subsequently cooling the panes abruptly with cold air" to strengthen it.
The cold bending process "involves bending the individual panes of a glass laminate prior to laminating and subsequently laminating them with the new curved geometry. The finished laminated pane retains its bent shape after autoclaving without the need for a supporting framework to help the glass retain its shape." Campus 2 glass panels were formed to their curved shape in a pristine, clean room autoclave heated to around 265° F (130° C).
The glass fabricator details that it "has one of the world's largest glass tempering installations with a 75m (246ft) long furnace for processing flat glass to create heat-strengthened or fully tempered glass."

The firm also produced 1,616 white glass canopies, also up to 46 foot (14m) long, which ring the structure at each floor level, providing shade and working as part of the active ventilation system that brings in fresh outside air in the mild Cupertino, California climate to reduce the amount of heating and cooling required.
From the Bavaria to Silicon Valley
From Germany, sedak shipped its glass panels— weighing up to 3 tons each— in 20 ton parcels by ship across the Atlantic and through the Panama Canal to California. After being trucked to the Campus 2 site, individual glass panels are picked up and lifted into place by a specialized forklift with suction cup fingers (depicted in action, below).
In addition to the Spaceship Ring, Apple is also using large format glass panels in the dramatic circular entrance of its subterranean Campus 2 Theatre (its cylindrical wall of glass holds a composite disk roof), as well as the surrounding buildings including a fitness center and a series of research and development facilities currently under construction.
As noted by Popular Science Campus 2 in total uses 1,600 panes of canopy glass, 900 vertical glass panes, 510 panes of upper window "clerestory" glass and 126 glass panes used in skylights.
...to Apple Stores around the world
It was natural for Apple to turn to sedak to supply it with glass for Campus 2. The companies have previously worked together on a series of other projects, including glass windows, stairs and structural elements such as balustrades, used across more than 70 of Apple's Retail Stores globally.
That famously includes the massive glass cube entrance to Apple's subterranean 5th Ave flagship store in New York, a similar grandly cylindrical entrance used in flagship stores in both Pudong in Shanghai and Chongqing's Guotai Plaza in China, as well as the huge retractable window-wall-doors of new Union Square store in San Francisco.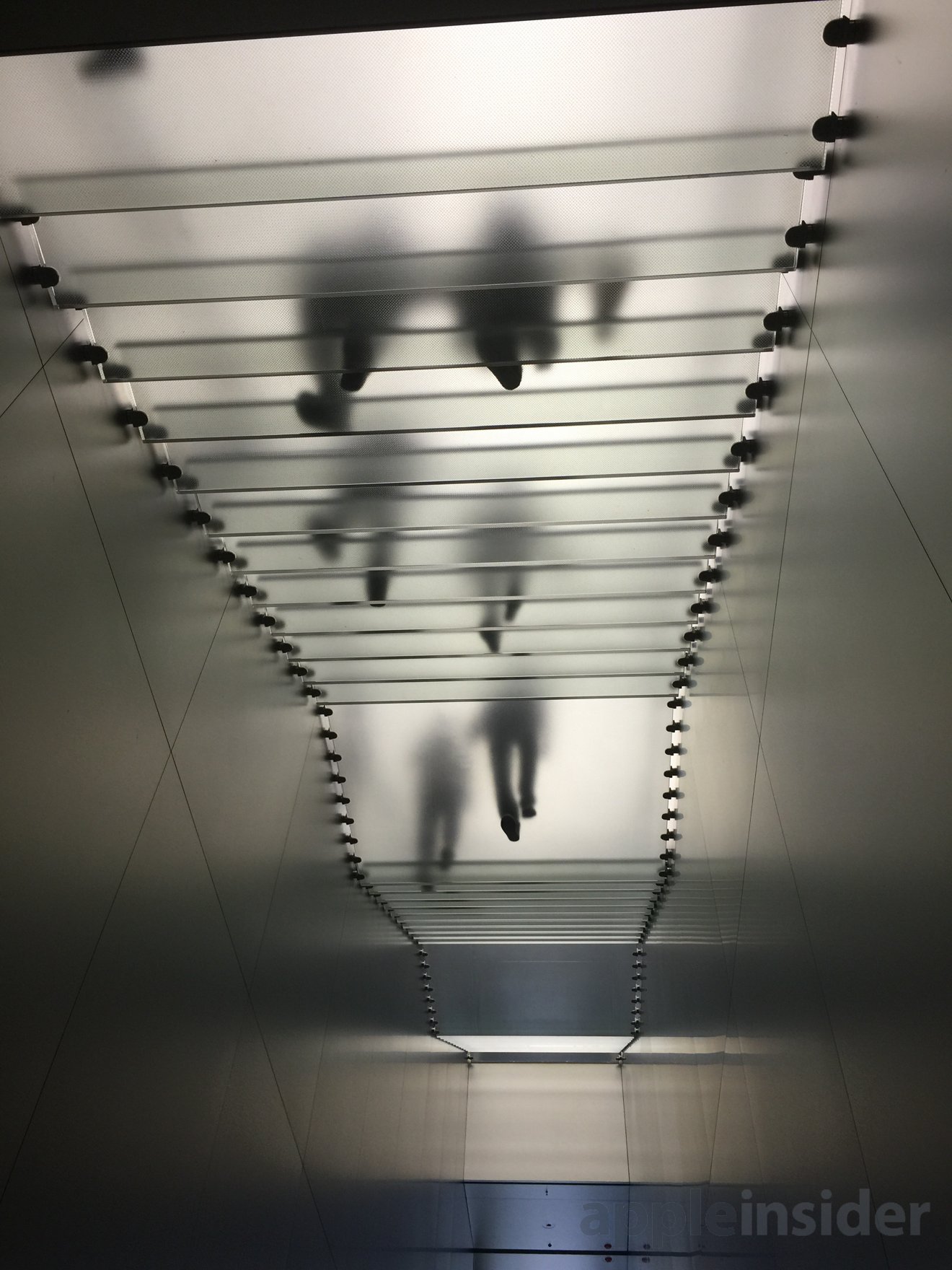 Glass stairs at Hysan Place Apple Store, Hong Kong
Another iconic flourish common across many Apple Stores is sedak's glass stairways, used to particularly dramatic effect in Apple's stores spanning from Hong Kong (above) to Paris to London (below) and, again, its newest flagship in San Francisco.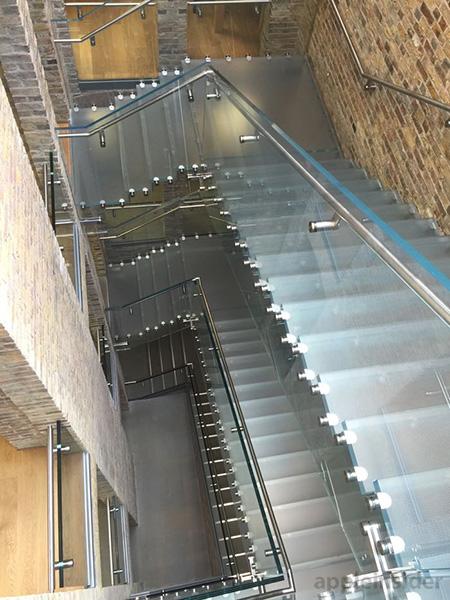 Glass stairs at Convent Garden Apple Store, London
Apple's partnerships in the state of the art
Apple's partnership with sedak to develop large scale, technically advanced, optically pure and precisely manufactured glass panels is not a unique type of relationship for the company. It has also formed similar high profile partnerships with TSMC, the world's most advanced silicon chip manufacturer, to develop and mass produce its state of the art A10 mobile Application Processors that nobody else in the industry needs in similar volumes.
Outside of commodity silicon chips, displays, memory and other components it sources from leading suppliers in Asia, Apple also forged partnerships with automotive parts and tooling manufacturers in the U.S. to develop and produce an innovative case design for Mac Pro.
"When we began work on Mac Pro, we considered every element that defines a pro computer — graphics, storage, expansion, processing power, memory — and we wanted it all to be designed and assembled in the U.S." Apple noted on on its site in 2013. "In fact, we've invested more than $100 million to bring the manufacturing and assembly of Mac Pro to Austin, Texas, and partnered with 24 different companies in that state alone."
The company added, "along the way, we sought help from dozens of component and equipment suppliers in multiple states. Places like Florence, Kentucky, where we found the lathes and tooling equipment necessary to produce Mac Pro. And Elk Grove Village, Illinois, where a company called Metal Impact creates the revolutionary cylindrical aluminum enclosure.
"When we initially reached out to Metal Impact, it was primarily working with aluminum in the automotive industry. Alongside its team, we created an entirely new process and supply chain, conducting more than 40 experiments with 10 different alloys on multiple aluminum mills. The result is arguably the most beautiful Mac ever, along with new jobs and millions of dollars in revenue for a small Illinois company."
Related to the construction of Campus 2, Apple states that it "turned to family-owned Clark Pacific to make the void slabs [below] that serve as both the ceiling of one floor and support for the raised surface of the floor above. Clark Pacific developed a unique structural design to meet the demands of Apple Campus 2, and the project has led to unprecedented growth and hiring for the company.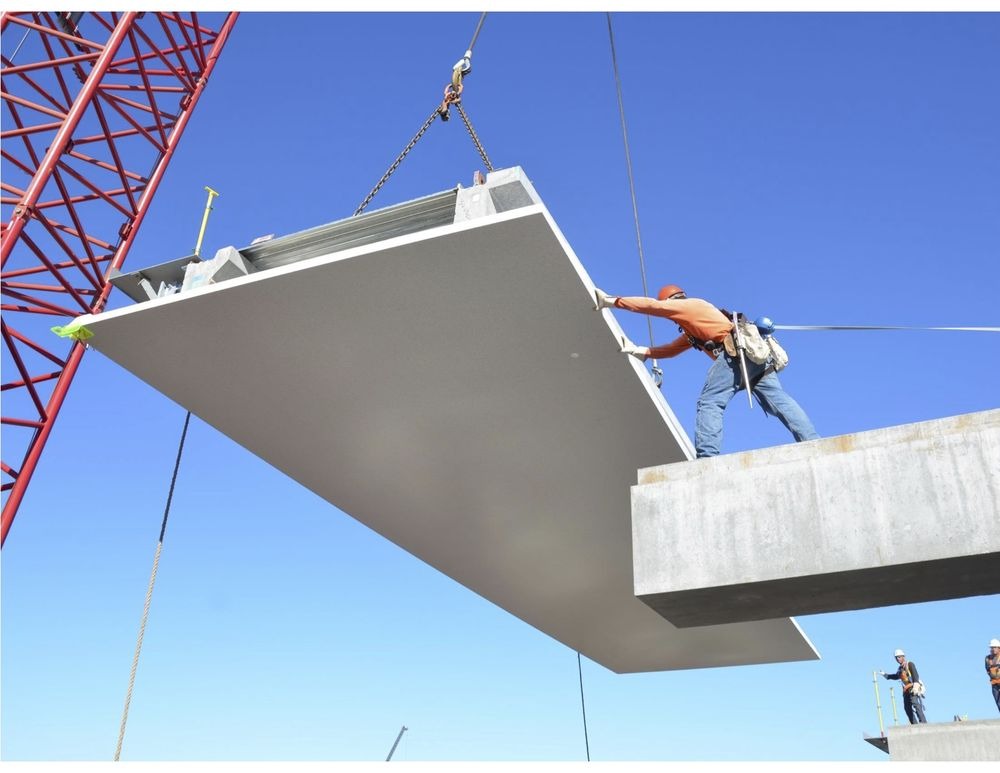 Campus 2 void slabs being installed
"It now has four plants dedicated to producing products directly related to the project. The innovation and manufacturing that went into Apple Campus 2 have also enabled Clark Pacific to expand to other large-scale construction projects up and down the West Coast."
Apple's ability to design and implement products ranging from the microscopic A10 to the massive Campus 2 to the human scale of Mac Pro— and its ability to partner with both leading, global giants and groups of smaller, local businesses— suggests incredible potential for the company in other new markets, ranging from clean energy to automotive to new cloud services and advanced new computing devices.
And with room for more than 10,000 new employees at its Campus 2 site beginning early next year, much of that magic will occur within walls of glass that are as exceptionally precise and exacting as everything else the company does.