Apple to spend $80M on Campus 2 visitor center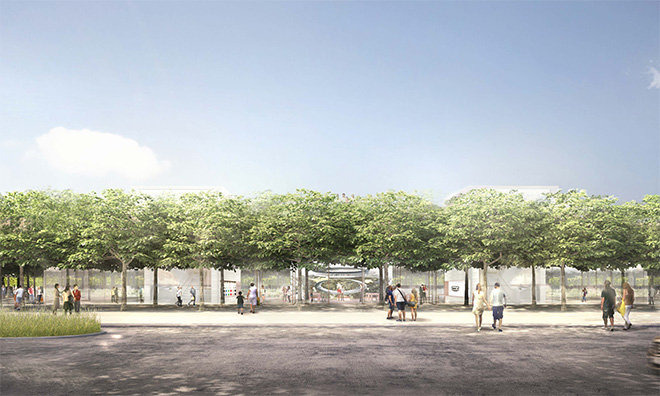 AppleInsider may earn an affiliate commission on purchases made through links on our site.
Apple is estimating a $79.9 million financial outlay to build a planned visitor center with store and cafe at the currently under construction Campus 2 site, according to a recent permit filing.
As noted by BuildZoom, which spotted Apple's build permit last month, the cost does not include a $26 million estimate for an underground parking structure with 684 stalls, to be located below the 20,135-square-foot visitor center. In total, Apple is spending in excess of $106 million in construction and infrastructure costs on the project.
Apple is contracting most of the work out to BNBuilders at a cost of nearly $4,000 per square foot, which BuildZoom notes is more than double the $1,500 per square foot price for Campus 2 proper.
Plans for the forthcoming visitor center were unearthed last year. A detailed rendering and accompanying build plan describe a two-story glass-walled structure with space for a 10,114-square-foot store, 2,386-square-foot cafe and an observation deck with views of Campus 2's "spaceship" main office building. Apple tentatively pegs visitor center hours from 7 a.m. to 7 p.m. on weekdays and 9 a.m. to 7 p.m. on weekends.
After seeing early setbacks that led to budget overruns and contractor changes, Apple's Campus 2 project is back on track for a move-in later this year. Most recently, an aerial video showed the spaceship's massive curved glass panels being installed.