Liquid ingress warning in iOS 10 beta protects iPhone against water damage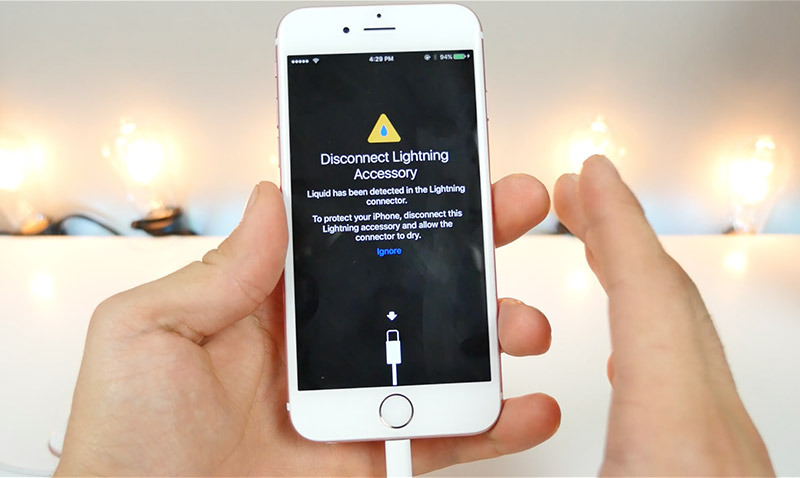 A new feature discovered in Apple's latest iOS 10 beta warns users when liquid is detected in an iPhone's Lightning port, a handy tool for saving compatible devices from irreversible water damage.
As seen in the clip below, posted to YouTube by EverythingApplePro on Monday, an iPhone 6s running the latest iOS 10 beta throws up a warning message when moisture is detected at the Lightning port, prompting users to disconnect any plugged-in accessories. The alert seems to appear only when Lightning is in use, a logical limitation considering the port remains inactive, and thus safe from a potential short circuit event, until a power cable or accessory is connected.
According to Engadget, which spotted the video on Wednesday, liquid detection is available on newer iPhone models including the 6s and SE lineups. AppleInsider was unable to replicate the warning on an iPhone 6s running iOS 10 beta 2, suggesting the feature is limited to iOS 10 beta 3.
Apple has not released a full list of compatible devices, nor has the company commented on whether or not the feature will remain when iOS 10 ships later this year.
It is unclear how the feature works, though EverythingApplePro proposes iOS 10 activates a dormant liquid sensor installed in iPhone's Lightning connector port. While Apple does own patents for such environmental sensors, it is more probable that the forthcoming operating system detects the presence of water and other conductive liquids by measuring for electrical anomalies or connectivity errors.
That Apple would include a major component in iPhone and leave it unused, or inaccessible to consumers, for most of the handset's life cycle is unlikely. Further, the company installs small color-changing liquid detection tabs in its iOS devices for warranty and repair purposes, not dedicated sensors.
In any case, the feature has the potential to save iOS device owners hundreds of dollars in repairs if and when it launches with iOS 10 this fall.