Apple adds 100 emoji to latest iOS 10 beta, promotes diversity and gender equality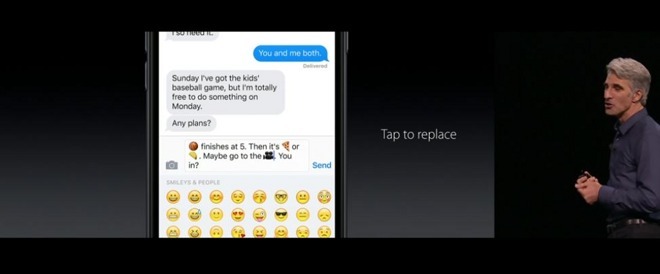 Apple's latest iOS 10 developer beta includes more than 100 new emoji for inclusion in chats and messages, with a number of characters having both male and female options available for the first time.
The latest developer preview of iOS 10 includes Unicode modifications that were decided in June and introduced in July. The additions include both male and female options for previously gender-limited activities like the haircut and massage emoji.
Also added to the list are female athletes, a rainbow flag, a replacement for the controversial gun icon for a colorful water pistol, and more family options. Apple notes that it is working with the Unicode Consortium to "reflect the diversity of people everywhere."
The shift to the full set of icons approved by the Unicode Committee is not yet complete, as some emoji implemented have yet to be included.
The new emoji are for Apple's Messages, which is in the midst of an overhaul for the iOS 10 update. Expected changes include emoji-related enhancements, links with images embedded into chats, and dynamic text bubbles. Changes to emoji presentation including predictive recommendations, and presentation up to three times larger than in previous version of iOS.