Apple linked to 'AirPods,' unannounced iPhone & Apple Watch models in Eurasian regulatory filing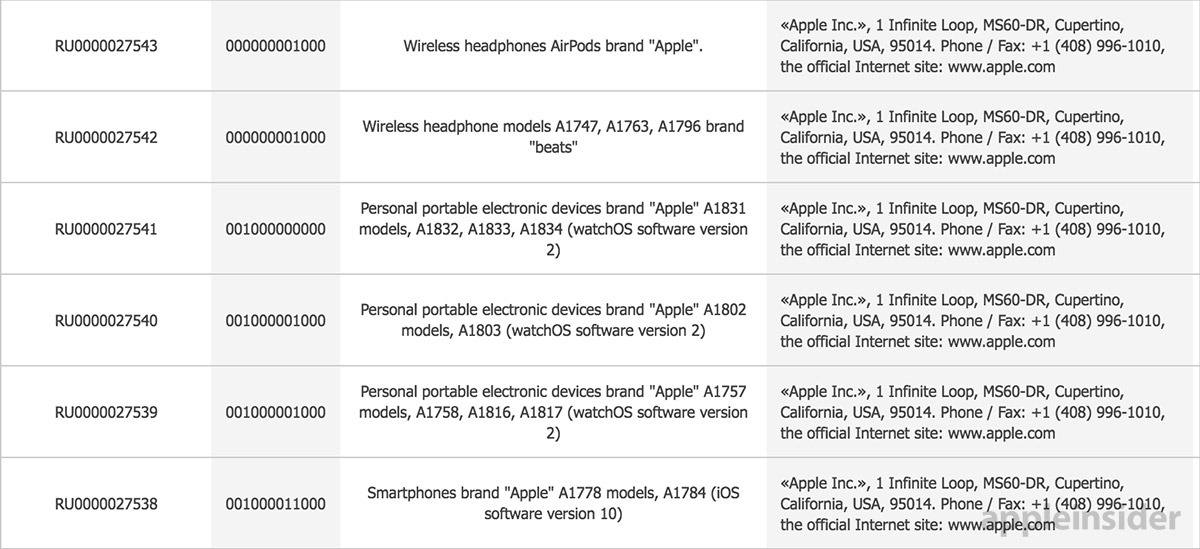 A series of regulatory filings published by the Eurasian Economic Commission on Monday suggests Apple is readying a pair of wireless headphones dubbed "AirPods," two new iPhone models and a total of ten Apple Watch models.
Apple presumably tendered six notifications to the EEC last week, which were subsequently published in a regularly updated registry whose title roughly translates to the "Unified Registry of notifications concerning characteristics of encryption tools and products. Russian website Mobiltelefon.ru discovered the filings on Tuesday.
The EEC is the main regulatory body for the Eurasian Economic Union, which consists of Armenia, Belarus, Kazakhstan, Kyrgyzstan and Russia. A wide scope of policy issues fall under the EEC's purview, including trade, competition, energy, currency, transportation and, germane to today's findings, trademarks and patents.
Seen above, Apple gained "active" certification status for a wireless headphone product dubbed "AirPods" alongside three other models to be marketed under the Beats brand.
The AirPods moniker, thought to a be a cheeky take on Apple's EarPods headphones, first appeared in government recordsin 2015, but until today has not been linked directly to Apple. At the time, Entertainment in Flight applied for ownership of the mark with the U.S. Patent and Trademark Office.
An amendment to the original application aroused suspicions, however, as the document carried the signature of a manager who seemed to have connections to Apple, suggesting the Cupertino tech giant had set up a shell company to keep the project secret.
AirPods intrigue sparked speculation that Apple was, in fact, preparing to release a set of branded wireless headphones to go along with its iPhone lineup. The AirPods rumors came amidst the first flurry of reports indicating Apple had plans to delete the venerable 3.5mm headphone jack from its upcoming "iPhone 7" design.
Some industry watchers believed Apple would bundle a pair of AirPods in each iPhone 7 package, or at least offer the device for sale as a first-party accessory. More recently, however, evidence of working Lightning EarPods made its way to the web, suggesting Apple might go that route instead.
As for the other EEC certifications, Apple is named in a notification covering smartphones designated A1778 and A1784, model numbers that follow Apple's numbering conventions but do not match any existing devices. Interestingly, the term "iOS software version 10" is appended to the entry, perhaps indicating that the named devices are variants of an iPhone expected to debut at a special event next week.
The EEC registry splits the ten assumed Apple Watch models into three different notifications for "Personal portable electronic devices." Again using an Apple-esque numbering scheme, models A1831, A1832, A1831 and A1834 are mentioned in one entry, while a second includes the numbers A1757, A1758, A1816 and A1817. A third notification contains designators A1802 and A1803.
Curiously, each of the three notifications refer to "watchOS software version 2," the current iteration of Apple's Watch operating system. Apple is working to release watchOS 3, the next-generation wearable OS announced at this year's Worldwide Developers Conference in June. Traditionally, Apple launches a fresh OS when it debuts a category flagship device, for example iPhone 7 and iOS 10. Considering watchOS 3 is slated for release this fall, it is unclear as to what devices the EEC documents refer.
The latest next-gen Apple Watch scuttlebutt points to at least two separate models set for release later this year.
According to well-connected analyst Ming-Chi Kuo, the first version will contain minor internal enhancements like an improved TSMC processor built on the 16nm process and slightly improved waterproofing. The second "Apple Watch 2" version is also expected to share a design similar to current models, but will include a GPS radio, barometer and higher capacity battery.