Apple activates official Twitter account ahead of Sept. 7 event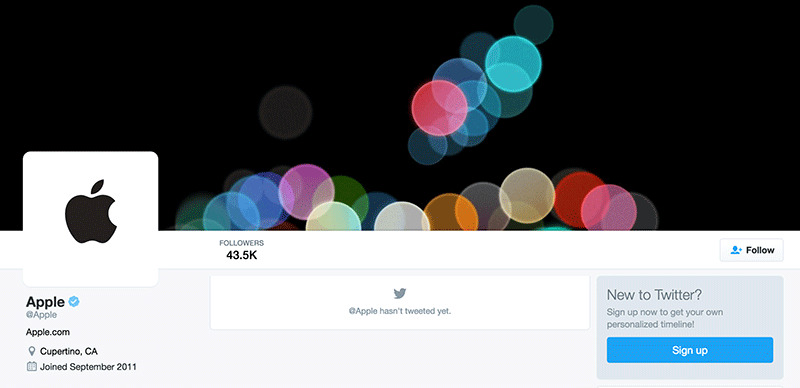 It seems Apple has finally decided to curate an official corporate presence on Twitter, as evidenced by the activation of a long-dormant verified account bearing the company's name on Friday.
The account, @Apple, has yet to post tweet, but already boasts more than 43,500 followers as of this writing. Apple registered its handle in September 2011, leaving it untouched until today.
As seen in the screenshot above, Apple's profile photo has been updated to display a simple black Apple logo, while the larger header photo contains teaser art created for the upcoming Sept. 7 media event. Judging by the cover graphic, @Apple's first post might be a live-tweet from next week's keynote.
Long averse to promoting its products and services on Facebook, Twitter and other platforms, Apple more recently has taken steps to up its social media game. Alongside customer support portals like @AppleSupport, which launched earlier this year, and regional accounts dedicated to promoting App Store and iTunes releases. Another account, @AppleNews, debuted last year and surfaces fresh content featured in the Apple News iOS app.
The @Apple account comes just in time for next week's special event, at which the company is expected to introduce next-generation iPhone models and Apple Watch hardware. Also rumored to debut are new headphone models marketed under the Beats brand.
AppleInsider will be covering Apple's keynote presentation live from the Bill Graham Civic Auditorium in San Francisco next Wednesday at 10 a.m. Pacific, 1 p.m. Eastern.