Apple releases iOS 10, macOS Sierra, watchOS 3 and tvOS 10 GM seeds, Sierra to launch Sept. 20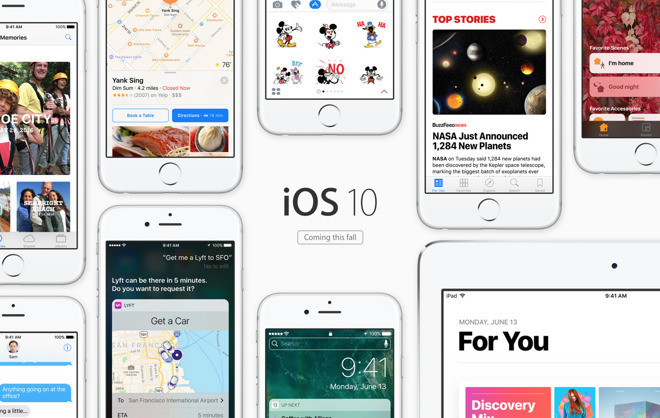 Following Wednesday's iPhone event, Apple issued golden master versions of iOS 10, macOS 10.12 Sierra, watchOS 3, tvOS 10 and Xcode 8 to developers ahead of public releases this fall.
Golden master candidates are the final step in internal testing prior to public release, meaning developers have only a short amount of time left to test out their wares on Apple's pre-release software.
The iOS 10 build, dubbed 14A403, comes after Apple went through eight beta revisions, and arrives alongside watchOS 3 GM build 14S326. Both operating systems are set to debut on Sept. 13.
When it launches, iOS 10 will include a revamped user interface, improvements in notification handling, expanded 3D Touch support and deep third-party app integration with Siri and Maps. Apple's watchOS 3 boasts a redesigned interface that emphasizes speed and instant access to vital information.
Apple's macOS 10.12 Sierra build 16A319 marks the end of testing for the upcoming Mac operating system set to launch on Sept. 20. Siri integration is the main event for Sierra, though users can also expect a greater emphasis on iCloud syncing, interaction with iOS devices, device unlock via Apple Watch and more.
Finally, tvOS 10 golden master build 14T330 brings the refreshed set-top box OS closer to a release set for some time this fall. Along with a revamped user interface, tvOS 10 promises expanded Siri capabilities and single sign-on for over-the-top cable services.
Developers can download today's GM builds via Apple's developer website or through each platform's respective App Store.
In related news, Apple is calling on developers to submit final versions of upcoming iOS 10 apps for review ahead of next week's release.