Matte black iPhone 7 undergoes brutal scratch, bend test in new video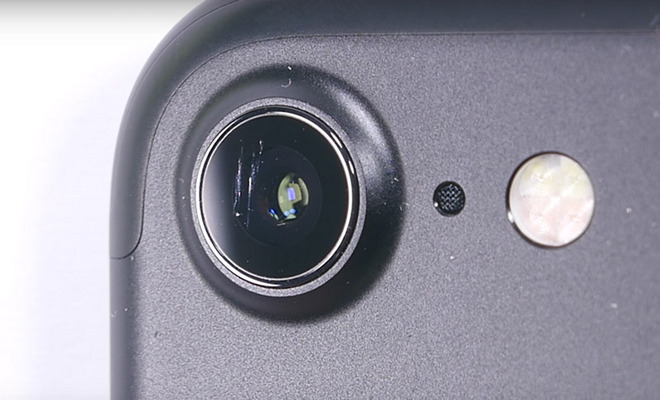 AppleInsider is supported by its audience and may earn commission as an Amazon Associate and affiliate partner on qualifying purchases. These affiliate partnerships do not influence our editorial content.
Although it just launched mere hours ago, Apple's latest 4.7-inch iPhone 7 has already been subjected to a brutal durability test that shows the new matte black finish, while fairly resistant to scuffs, is no match for a razor.
YouTube channel JerryRigEverything got its hands on one of the first production iPhone 7 models on Wednesday, and like any good YouTuber promptly unboxed and attempted to destroy it with keys, razors and sheer brute force.
Overall, iPhone 7 faired well in an array of scratch tests designed to simulate everyday use scenarios, for example scuffs from a set of keys. Apple's anodizing process appears robust in most cases, but succumbs to the tip of a utility knife.
On the front, iPhone 7's screen scratched with a mineral test pick equivalent to a level 6 on the Mohs hardness scale, in line with most modern smartphones equipped with the latest Gorilla Glass.
Interestingly, JerryRigEverything claims the rear iSight camera cover is not sapphire. As seen in the video, iPhone's camera cover is unharmed by a common razor blade, but shows deep pitting with a level 6 test pick. That puts the material one level below quartz on the Mohs scale and three below corundum, of which sapphire is a variant.
For its part, Apple's official tech specs webpage clearly state both the iPhone 7 and 7 Plus feature sapphire lens covers.
Perhaps more questionable is JerryRigEverything's claim that the Touch ID home button — now solid-state — is covered in glass, not sapphire, as it too scratched with a level 6 pick. Apple is widely known to implement sapphire in its Touch ID stack, a contingency introduced when the fingerprint recognition system debuted on iPhone 5s. Only a material like sapphire is suitable for such a component, as iPhone's home button acts not only handles UI navigation, but also access protection and, with Apple Pay, payments. Inaccurate fingerprint readings from a scratched cover would be considered a major defect.
Like last year's iPhone 6s, the new handset is constructed from 7000 series aluminum, making it nigh unbendable for regular humans. During the bend test, the channel pointed out what it calls "waterproofing adhesive," which appeared to stretch out from the edge of display when it lifted away from the aluminum chassis. Apple is touting IP67 water resistance, but whether the sticky material is indeed a waterproofing agent or simply Apple's usual liquid-based adhesive is unclear.
Today's video offers a fair estimation of what to expect from Apple's latest and greatest smartphone in terms of durability, but we would take the dubious assumptions drawn from JerryRigEverything's Mohs scale testing with a grain of salt.