DJI launches ultraportable iOS-connected Mavic Pro camera drone for $999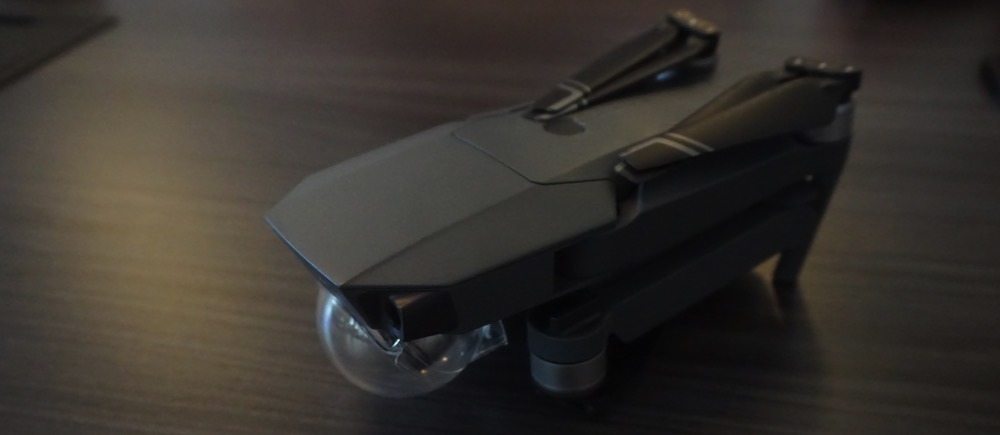 Drone maker DJI on Tuesday unveiled its latest flying camera — Â a foldable, portable, sub-$1,000 device dubbed the Mavic Pro. AppleInsider went hands-on with the all-new aerial camera, and offers a closer look.
Unlike DJI's flagship Phantom series, which on its own can occupy an entire carry-on bag, the Mavic Pro's unique design allows it to fold down to about the size of a large water bottle. With just one battery, it offers 27 minutes of flight time, and can broadcast live HD video to a connected iPhone, via the included controller, up to 4.3 miles away.
Its new controller is also foldable, and securely cradles an iPhone of any size beneath the physical buttons and basic LED display for data like signal, distance and speed. The iPhone connects via a Lightning cable to the controller for live video feeds.
The main competitor for the DJI Mavic Pro is GoPro's newly announced $799 Karma, also a folding, flying camera. But for its entry price, the Karma does not include a GoPro camera — a bundle with the Hero5 Session camera (which doesn't ship until Spring of 2017) is priced at $999, while a version with the standard GoPro Hero5 will cost $1,099.
DJI's $999 price tag, meanwhile, includes an integrated camera and gimbal that record 4K video at 30 frames per second and full 1080p HD at 96 frames per second. A Mavic Pro without the portable controller, able to be controlled via just an iPhone over Wi-Fi (albeit at a much shorter range), will also be sold for $749.
DJI's hardware and software also allow autopilot and auto-follow capabilities not seen in the GoPro Karma. Using a connected iPhone to select a subject, DJI's ActiveTrack technology can follow, lead, or track alongside objects including people, bicyclists, cars, boats, and animals.
GoPro Karma, meanwhile, boasts both a removable camera and gimbal that can be attached to the company's extensive lineup of mounts and accessories. In short, while the DJI Mavic Pro aims to be an ultraportable all-in-one self-flying solution, the GoPro Karma is an accessory to the company's core camera business, well suited to consumers who are already invested in its ecosystem.
Representatives from DJI told AppleInsider last week they are focused on making it simple and not intimidating for users to capture aerial footage. In their view, the Mavic Pro is the latest evolution in that goal, allowing users to bring a camera with them easily in a bag or backpack.
Despite its portable design, the Mavic Pro has many of the features of DJI's newer Phantom products, including obstacle avoidance in the air, and air-to-ground sensors for indoor flight, ensuring the drone can land in the same spot it took off from when flying on autopilot. The Mavic Pro also introduces a new "FlightAutonomy" guidance system that uses dual-band satellite navigation, redundant sensors, ultrasonic range finders, five vision positioning cameras, and deep learning processors.
All of it is controlled through the robust DJI Go app for iPhone and iPad, allowing users to tap flight paths to follow or objects to track. And DJI has ditched Lightbridge technology for its own proprietary "OcuSync" live, encrypted video streaming, allowing users to see their shots in real time on their connected iOS device.
There's also a new "Tripod Mode" where the maximum speed of the Mavic Pro is reduced to just 2.2 miles per hour. With reduced sensitivity on the control inputs, pilots can more easily capture shots, as well as fly indoors or in confined spaces.
All of those autopilot and indoor features aimed at newcomers don't mean DJI plans to leave out more experienced drone pilots, however — Â the Mavic Pro also has a "Sport Mode" where the drone can fly at speeds up to 40 miles per hour. Mavic Pro is also said to remain stable and fly smoothly in winds up to 24 miles per hour.
While the design of the Mavic Pro is impressive, we came away equally intrigued by the new controller, which feels extremely solid in the hand despite its collapsible design. The dedicated LED display on the front is not only useful, but we also found the aesthetic to be delightfully retro. DJI's physical controllers have always been a strong selling point for their drones, and we feel like its latest input device is another winner.
Available for preorder direct from DJI, the $999 Mavic Pro will begin shipping Oct. 15, and it will debut at Apple retail stores in early November. Extra batteries are priced at $89. DJI will also offer a "Mavic Pro Fly More Combo," including the portable drone, two extra batteries, extra propellers, a charging hub, an adapter, a car charger, and a shoulder bag for $1,299.