App Store Search Ads go live, queries for specific titles show competing products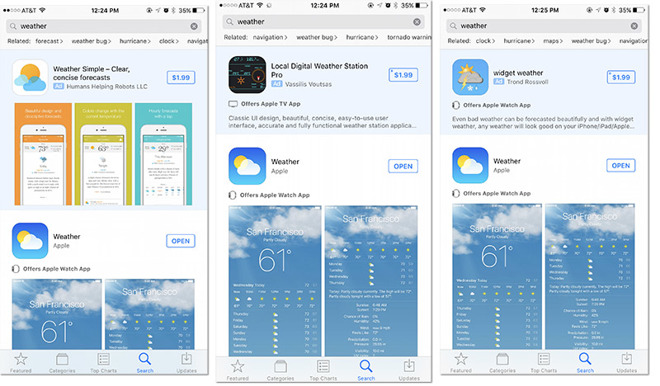 AppleInsider may earn an affiliate commission on purchases made through links on our site.
As promised, Apple on Wednesday activated Search Ads in the iOS App Store, meaning users will soon see promoted apps populating the top spot in search results feeds.
Like the Search Ads beta, ads are presented in light blue boxes at the top of App Store search results. The special coloring, and a blue "Ad" icon located next to the developer's name, clearly denotes the search results is paid promotional content.
Apple offers developers a few choices when it comes to ad sizes. In the example above, ad spots for Local Digital Weather Station Pro and widget weather incorporate the app's icon, developer name and two lines of text taken pulled from the app description. WeatherSimple sprung for double-height ad space that replaces description text with screenshots. A quick test shows developers are able to field simple text ads alongside those with screenshots.
In addition to general category queries like "weather" and "music," Search Ads appear in targeted searches for specific app titles. For example, a search for "Yelp" yielded an ad for competing service Eat24 (which also paid for screenshots).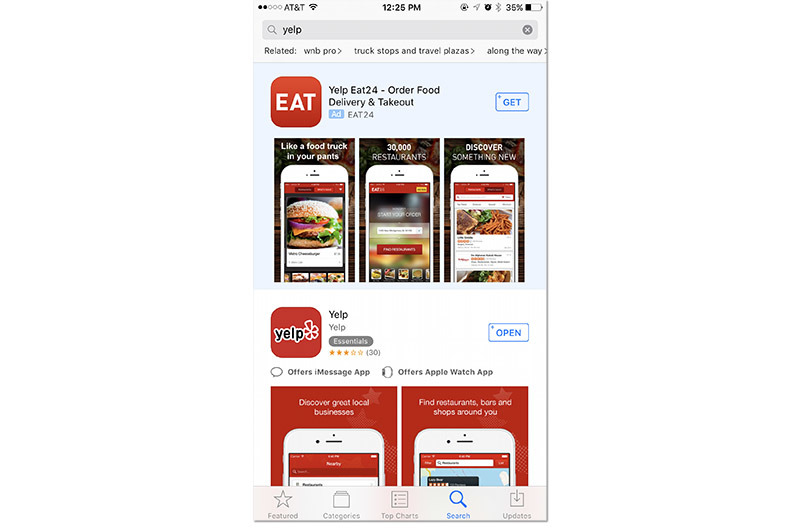 Apple announced Search Ads in June as a new feature designed to help developers boost app discoverability in an overcrowded App Store. Along with clearly defined ad placements — a nod to customer experience — the service uses special algorithms to make sure surfaced apps relate to consumer queries.
Developers pay for ads on a Cost Per Tap model with no minimum spending limits. Like most ad services, Apple provides analytics tools to track engagement, adjust maximum daily limits, manage ad content and more