Video: 5 reasons to upgrade to iPhone 7
By AppleInsider Staff
Saturday, October 15, 2016, 02:39 am PT (05:39 am ET)
Apple spent a year packing a raft of improvements into iPhone 7; AppleInsider spent the past few weeks boiling down which of those matters most. Here are five reasons why you should consider upgrading.

Unbeatable Deals from AppleInsider & Apple's Top Authorized Resellers
Today's Headlines
No news headlines yet today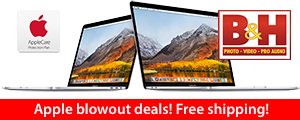 Lowest Prices Anywhere!