Apple Pay to reportedly go live in Japan on Oct. 25, hints at iOS 10.1 release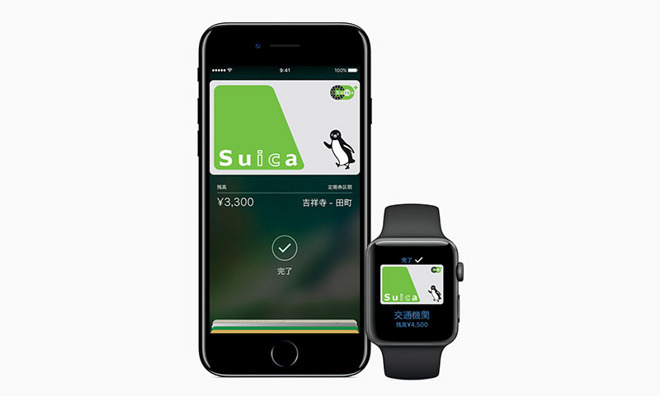 AppleInsider may earn an affiliate commission on purchases made through links on our site.
Apple's iOS 10.1 could see release next Tuesday, as recent reports from Japan claim the company is set to activate Apple Pay — thought to be part of the forthcoming software update — in that country on Oct. 25.
Local media covering Apple CEO Tim Cook's recent trip to Japan reported the tech giant has plans to launch Apple Pay as part of iOS 10.1 next Tuesday, according to blog Ata Distance.
Lending credence to the rumored launch timeline are maintenance downtimes scheduled for Oct. 25 by Japanese mobile provider Docomo's iD payment service and railway company JR East's Suica transit card system. Both services will see integration with Apple Pay at launch.
Apple during the iPhone 7 event last month announced upcoming Apple Pay availability for the Japanese market. Light on details at the time, subsequent reports narrowed down a tentative release date to late October.
Along with traditional NFC protocols, all iPhone 7, iPhone 7 Plus and Apple Watch Series 2 models sold in Japan support FeliCa Type-F NFC contactless technology. Apple appears to be targeting commuters — a backbone demographic in all major Japanese metropolitan areas — with its initial integration, as Apple Pay's FeliCa support extends to Suica transit cards from JR East and tap-to-pay systems from Docomo and QUICPay.
"We are incredibly excited to bring iPhone 7 to customers in Japan so they can experience the magic of Apple Pay," Cook said in September. "Apple Pay will transform your daily routine, from making your commute easier and more convenient than ever with Suica right on your iPhone 7 and Apple Watch Series 2, to using your favorite cards to make secure and private purchases with a single touch."
Cook became one of the first customers to try out the Suica implementation last week when he used his iPhone 7 to enter a gate on JR East's Yamanote Line in Tokyo.
As for iOS 10.1, Apple just today released the fourth beta version to developers for testing. Along with Apple Pay for the Japanese market, the impending software update will deliver Apple's promised Portrait camera mode for iPhone 7 Plus, as well as miscellaneous bug fixes and performance improvements.