Apple executives awarded stock bonus worth up to $25M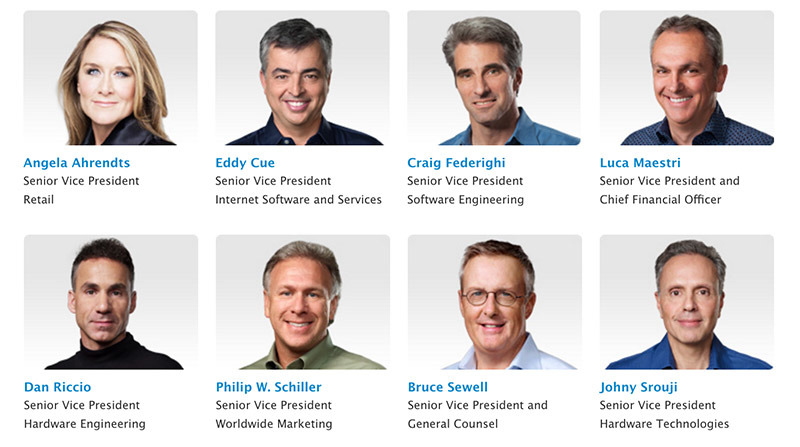 Apple last week meted out restricted stock unit awards to its executive team, with the likes of SVP of Internet Software and Services Eddy Cue, SVP of Worldwide Marketing Phil Schiller and others receiving up to 149,667 RSUs scheduled to vest through 2021.
Alongside Cue and Schiller, Apple SVP of Retail Angela Ahrendts, SVP of Software Engineering Craig Federighi, SVP and CFO Luca Maestri, SVP of Hardware Engineering Dan Riccio, SVP of Hardware Technologies Johny Srouji and SVP and General Counsel Bruce Sewell all received two batches of RSUs on Oct. 14, according to multiple Securities and Exchange Commission filings published Tuesday.
A first set of tenure-based 85,013 RSUs is slated to vest in equal thirds on April 1 of 2019, 2020 and 2021. Up to 200 percent of a separate batch of 64,654 performance-based units will convert into common stock on Oct. 1, 2019, depending on total shareholder return between Sept. 25, 2016 through Sept. 28, 2019.
If both tenure and performance metrics are met, the executives will net as many as 214,321 shares of AAPL stock through 2021, a figure worth $25.1 million at today's prices.
In addition to the RSU award, a number of SVPs saw past bonuses convert into common stock last week. Srouji, for example, saw 42,734 RSUs vest on Oct. 15, 21,447 of which were withheld by Apple to satisfy tax laws. Maestri received 12,558 common stock conversions on the same day, of which 6,248 were withheld for taxes.
Finally, Senior Director of Corporate Accounting Chris Kondo was awarded 16,578 RSUs on Oct. 4. According to the document, 12.5 percent of the award is slated to vest on April 15, 2017, with the remainder set to vest in semi-annual installments over a four-year period ending October 15, 2020. Kondo last week also saw 4,798 RSUs from previous awards convert into common stock.
Today's SEC filings come after many of the same Apple executives saw RSUs from a 2014 award vest two weeks ago. Cue, Schiller, Federighi, Riccio, Sewell and COO Jeff Williams all received 87,578 common stock conversions as part of a performance-based award which at the time was worth nearly $10 million.