Potential MacBook Pro OLED function row names include 'Magic Toolbar,' 'Control Strip,' 'Touch Bar'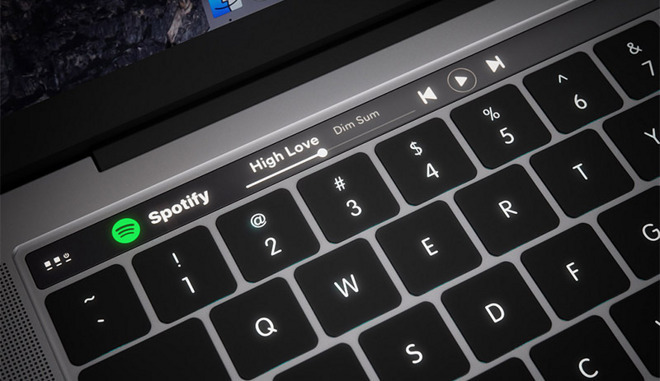 One of the key changes to next week's anticipated MacBook Pro refresh is believed to be a new touch-sensitive OLED screen replacing the function row of keys on the keyboard. Trademark filings by Apple reveal the possible names the company could use to brand it.
In September, trademark attorney Brian Conroy contacted AppleInsider with a list of trademarks covertly filed by Apple internationally, potentially revealing the names of upcoming products. Many of the names proved true at Apple's iPhone 7 event, including AirPods, iBooks Storytime, and the "Everyone Can Code" teaching initiative.
Among the original trademarks were mysterious names that have yet to be used, some of which were flagged as potential names for the anticipated OLED function row. They included "Control Strip," "Touch Bar," and "Smart Button."
Conroy has since self-rebranded as The Trademark Ninja, and this week published a new finding, revealing that Apple is also likely to own the name "Magic Toolbar." That branding would fit in with other products in Apple's Mac lineup, including the Magic Trackpad, Magic Mouse, and Magic Keyboard.
Apple is believed to have filed for the "Magic Toolbar" trademark under the name of a shell company, "Presto Apps America LLC," in the U.S. back in January. Conroy also discovered through international "Magic Toolbar" filings that the same lawyers who filed for Apple's ownership of AirPods are behind the mystery trademark.
All is expected to be revealed in one week, when Apple will hold a media event at its Cupertino, Calif., headquarters on Oct. 27. It's expected that the company will take the wraps off of new 13- and 15-inch MacBook Pros, featuring the yet-to-be-officially-named OLED function row, as well as a thinner chassis sporting reversible USB-C ports, and a Touch ID fingerprint sensor.
Apple is also expected to introduce a refresh to the 13-inch MacBook Air, though the 11-inch model is not believed to be in line for an update this fall.
AppleInsider will be at 1 Infinite Loop live next Thursday with full coverage of Apple's "Hello Again" event. The presentation is scheduled to kick off at 1 p.m. Eastern, 10 a.m. Pacific.