Apple AirPods arrival date officially updated from late October to "coming soon"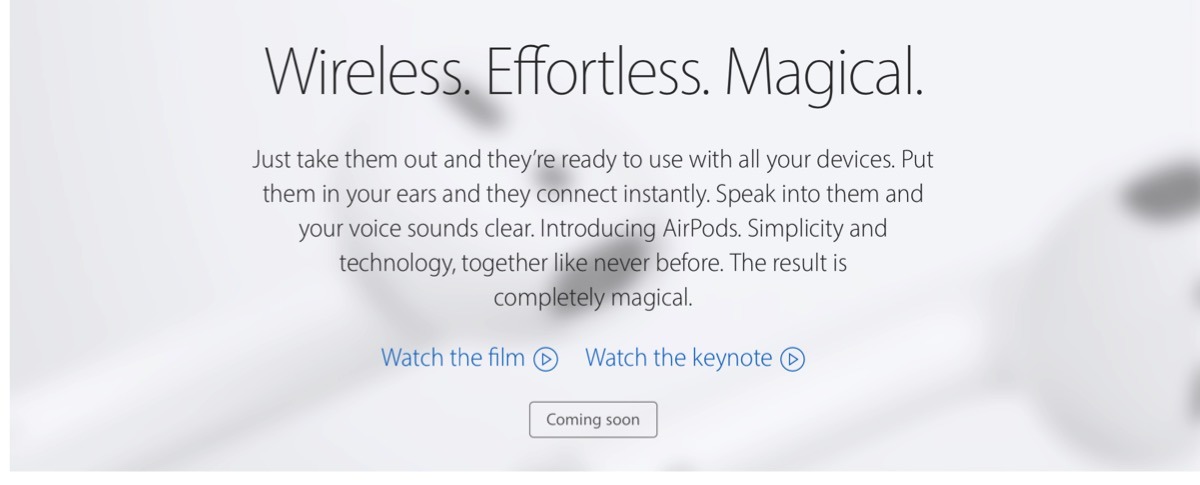 Confirming a report from Wednesday, Apple's AirPods street date has shifted on the company's web page from late October, to a less specific "coming soon."
"We don't believe in shipping a product before it's ready, and we need a little more time before AirPods are ready for our customers," Apple said in a statement issued to TechCrunch on Wednesday. The remark was unable to be confirmed at the time, however, and up until the "hello again" event, the Apple website still reflected the "late October" release window.
Specific details for the reasoning behind the delay have still not been revealed.
Apple's new Powerbeats3 workout headphones will beat the AirPods to market. The company began taking orders for Powerbeats 3 on Tuesday, with the first deliveries scheduled to arrive in early November.
AppleInsider went hands-on with Apple's AirPods at an event unveiling them in September. Regardless of ship date, the AirPods will retail for $159.