Samsung still No. 1 smartphone vendor, but Note 7 knocked marketshare back to 2014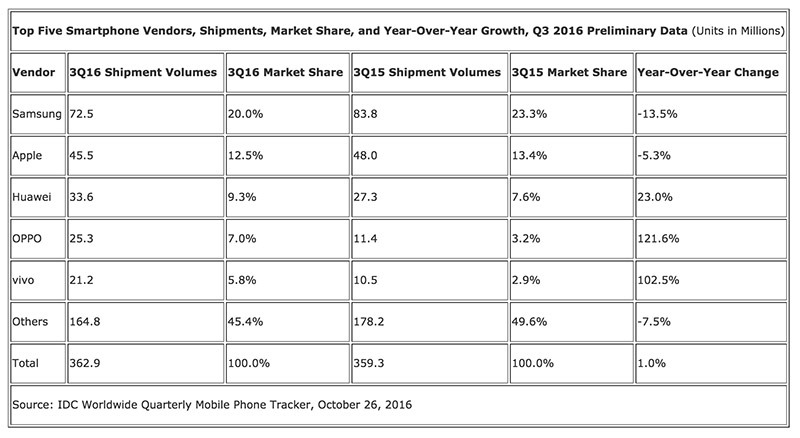 AppleInsider is supported by its audience and may earn commission as an Amazon Associate and affiliate partner on qualifying purchases. These affiliate partnerships do not influence our editorial content.
Leaning on an expansive lineup of affordable Android handsets, Samsung retained its spot as the world's top smartphone vendor for the third quarter of 2016, according to research firm IDC. However, premium phone makers — Apple and Samsung included — are being squeezed from the bottom, as manufacturers of cheaper Android alternatives gained ground.
According to fresh statistics from IDC's Worldwide Quarterly Mobile Phone Tracker, Samsung shipped 72.5 million smartphones during the three-month period ending in September, good for 20 percent of the global market. The figure is down 13.5 percent from 83.8 million units shipped in the year ago quarter.
The last time Samsung took only 20 percent of the global market was in the fourth quarter of 2014, back when Apple trailed the Korean tech giant by only 0.16 percent.
"Samsung's market dominance in the third quarter was unchallenged in the short term even with this high-profile Galaxy Note 7 recall, but the longer term impact on the Samsung brand remains to be seen. If the first recall was a stumble for Samsung, the second recall of replacement devices face-planted the Note series," said Melissa Chau, associate research director, Mobile Devices at IDC.
Beyond global marketshare, the Note 7 discontinuation obliterated Samsung's quarterly earnings, with the company's mobile unit suffering a 96 percent year-over-year decline in operating profits.
Apple iPhone sales also declined by 5.3 percent to 45.5 million units, or 12.5 percent of the market over the same period. As noted in an earnings call on Tuesday, the performance helped eke out a Wall Street beat on revenues of $46.9 billon.
Looking ahead to the lucrative holiday quarter, Apple is set to capitalize on Samsung's mistake and momentum from its own iPhone 7 series launch. Supply for the latest iPhones is still constrained, with iPhone 7 Plus seeing particularly high demand thanks to differentiating technology like a dual-camera array. Apple CEO Tim Cook is confident that 4.7-inch iPhone 7 supply will equalize by the end of the year, but is less certain about iPhone 7 Plus stock.
Huawei came in third with a 9.3 percent marketshare on 33.6 million units shipped, up 23 percent from the same time last year.
Chinese upstarts Oppo and Vivo enjoyed the biggest year-over-year gains with shipment metrics jumping 121.6 percent and 102.5 percent, respectively. In comparison to Apple and Samsung, however, the two Chinese firms run relatively low production operations. Oppo shipped 25.3 million units in quarter three for a 7 percent share of the market, while Vivo managed 21.2 million units for a 5.8 percent stake.
Combined smartphone shipments hit 362.9 million units to grow one percent from the same time last year.