Apple cuts 512GB, 1TB SSD upgrade prices by up to $200 on older Mac models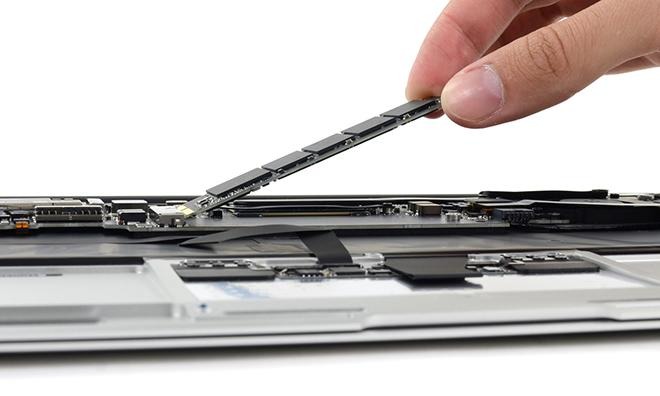 It appears Apple's push toward an all-flash storage Mac lineup is driving an amortization of SSD costs for the tech giant, as the company recently cut upgrade pricing for 512GB and 1TB modules on older Mac models.
Quietly announced through Apple's online storefront, the new pricing nets buyers an up to $100 savings on 512GB configurations and up to $200 for 1TB modules, and appears to have gone into effect shortly after last week's MacBook Pro unveiling.
Previously, Apple charged between $200 to $500 for a 512GB SSD upgrade, depending on Mac model and base configuration, while the 1TB option sold for between $700 and $900. With the updated pricing, shoppers in the market for a MacBook Air, MacBook Pro, Mac mini, iMac or Mac Pro can save up to $200 on custom high capacity configurations. The 2015 MacBook does not benefit from the price drop.
For example, adding a 512GB SSD to Apple's base model 27-inch iMac with Retina 5K display now costs $400, down from $500 prior to the change. The high-end version of that same computer retains a $200 price tag for 512GB of storage, but gets a $100 drop in 1TB SSD pricing to $600.
Similarly, the 21.5-inch iMac with Retina 4K display 512GB SSD configuration drops from $500 to $400. Custom 512GB and 1TB SSD configurations for all Mac Pro models now cost $200 and $600, respectively, down from $300 and $800 prior to last week.
On the MacBook front, upgrade pricing for the configurable version of Apple's 13-inch MacBook Air comes in at $200 for a 512GB SSD, a savings of $100. The MacBook Pro also benefits from lower SSD costs, with legacy 15-inch model upgrades selling for $200 and $600 for 512GB and 1TB, respectively, down from $300 and $800.
Finally, Mac mini upgrade prices drop from $300 and $800 for 512GB and 1TB configurations to a respective $200 and $600.
Apple last week updated its flagship MacBook Pro line, an important series in the company's computer lineup. On the top end are completely redesigned 13- and 15-inch models featuring a slim-and-light chassis, reduced internal volume, an all new OLED Touch Bar interface with Touch ID and wide color gamut Retina display. An entry level 13-inch MacBook Pro without Touch Bar also debuted at a more affordable price point. All three notebooks integrate an all-flash storage architecture, with SSD drives ranging from 256GB to a new 2TB option.