Apple Pay gains support for 31 Australian credit unions, small banks with Cuscal deal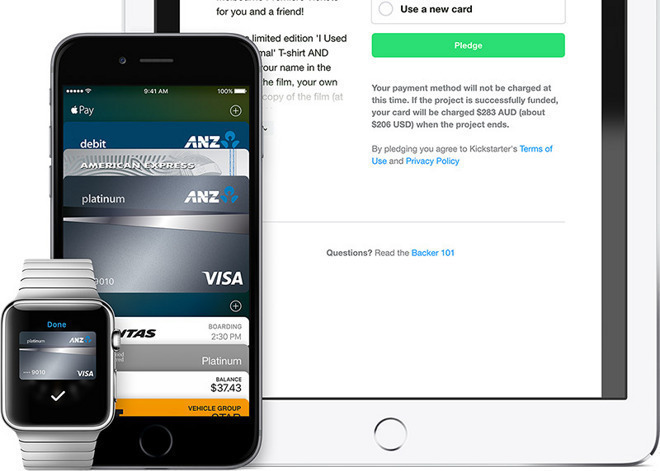 As Australia's largest banks look to stymie Apple Pay's expansion efforts for their own gains, Apple and payments solutions firm Cuscal on Wednesday local time announced a deal that will bring the fledgling payment service to 31 credit unions and regional banks.
According to Cuscal managing director Craig Kennedy, the new partnership could deliver Apple Pay to more than four million customers if each of Cuscal's client financial institutions opt to participate, news.com.au reports.
Under the terms of the agreement, Cuscal provides backend connection services between the banks, cardholders and Apple Pay systems.
Bank Australia
Bank of Sydney
Beyond Bank Australia
Big Sky Building Society
CAPE Credit Union
Central West Credit Union
Illawarra Credit Union
Community First Credit Union
Northern Beaches Credit Union
Credit Union Australia (CUA)
Credit Union SA
Defence Bank
EECU
First Option Credit Union
Goldfields Money
Goulburn Murray Credit Union Co-Op
Holiday Coast Credit Union
Horizon Credit Union
Intech Credit Union
Laboratories Credit Union
My State Bank
Northern Inland Credit Union
People's Choice Credit Union
Police Bank
QT Mutual Bank
Select Encompass Credit Union
South West Slopes Credit Union
Sydney Credit Union
Teachers Mutual Bank
The Mac (Macarthur Credit Union)
Warwick Credit Union
Woolworths Employees' Credit Union
Apple is currently at loggerheads with Australia's largest banking institutions over a wide Apple Pay rollout. In July, the Commonwealth Bank of Australia, National Australia Bank and Westpac Banking Corp, along with Bendigo and Adelaide Bank, lodged an application to collectively negotiate for third-party access to Apple Pay NFC technology, as well as contingencies including the ability to charge consumers fees for using the service and a narrow set of security guidelines. The banks are threatening to boycott Apple's service until their request is honored.
In a response furnished to the Australian Competition and Consumer Commission in August, Apple said the banks' actions only serve to hinder mobile wallet adoption. The company maintains Australia's banking "cartel" aims to stall consumer adoption of Apple Pay and other mobile wallet solutions to stifle competition as it prepares its own proprietary offerings.
For its part, the Apple Pay holdouts say Australians have been moving to contactless payments systems long before Apple entered the sector, a spokesman for the banks told AppleInsider. Specifically, the banks claim they, along with Australia's merchants and payments processors, were integral in the rollout of touchless solutions.
As for today's expansion, Apple VP of Apple Pay Jennifer Bailey lauded the Cuscal partnership.
"We want as many Australians as possible to be able to use Apple Pay," Bailey said. "Today more than 3,500 banks across 12 countries already support Apple Pay and we think Cuscal's customers will really love using Apple Pay for everyday purchases in stores, apps and on the web."
Apple Pay launched in Australia in April through a partnership with American Express and "big four" bank ANZ, the latter of which credited the Apple partnership with a 20 percent spike in credit card and deposit account applications.